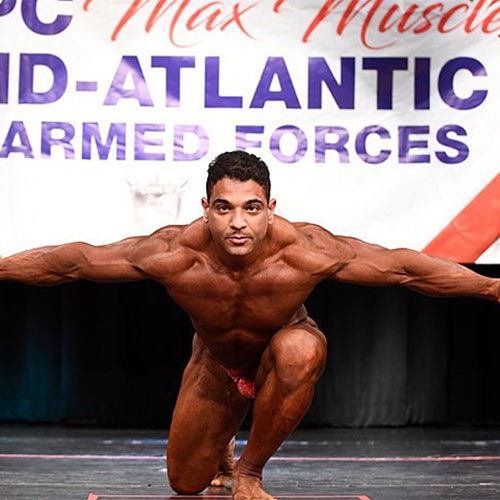 Age:

42

Height:

5'6

Weight:

195 lbs

Hair Color:

Black

Body Type:

Athletic

Pircing:

No

Tattoos:

No

Dress Shirt Size:

L

Shoes Size:

10.5
Originally from Egypt, Wesam has been in the United States since 2000. His educational background include a BA in Linguistics and Translation, Master's of Business Administration and an Educational Psychology Ph.D. candidate.
"I served four years as active duty Marine. I was stationed at camp Lejeune, NC and three deployments to Iraq as a linguist. My decorations include Purple Heart, combat action, war on terrorism, Iraqi campaign, and many others.  
Started competing in 2016 in the INBF and started NPC in 2019. I competed in Gladiator 2019 and placed third. Then competed in Max Muscle 2019 won my class to qualify for nationals. I'm currently in track to win my Pro Card in the North American in Pittsburgh, 2020″.
Competitions
What was your last bodybuilding competition and what did you place?
November 2019/ placed first in my weight class and qualified for nationals.
What prior competitions have you been to and what did you place in those?
1\. Muscle max: November 2019
2\. Gladiator: march 2019
What competitions have you won?
November 2019 and I won first in my class
When/where is your next competition?
September 2020/Pittsburgh to earn the pro card
FITNESS REGIMEN
Briefly describe your current workout regimen
I workout 5-6 days a week. Currently, doing 45 min cardio daily. I am currently in prep
What is the name and location of the gym that you currently work out at?
Planet Fitness
What supplement brands do you currently use?
Now
What are your Top 3 songs to work out to?
I listen arabic music
Hobbies
What are your hobbies?
Animals / Pets / Dogs
Acting
Calligraphy
Kayaking
Motorcycles
Sports
What sports do you play?
Bodybuilding / Skiing / Squash tennis / Marathon
Tell us about the sports you have played
Soccer / Self Defense
About MonEthos
Mon Ethos seeks to provide a customized level of service to its clients. By combining executive level talent management with the necessary business development tools Mon Ethos generates greater revenue and rewards to and interest in the athletes, artists and executives who take advantage of Mon Ethos wide range of services.
Through a hyper-intensive approach, we take talented individuals in their most raw form, fortify and develop their brand with a wide variety of resources and propel them into the next and highest level of their specific field. Whether it is the development of a website or a press release, Mon Ethos takes the utmost care in crafting a work product that is far superior than all others in our industry.
Our clients range from business executives reaching for the next level of management, or professional athletes looking to expand their revenue into areas other than their specific sport; all come to Mon Ethos for our professionalism and dedication to them and to our work.
Contact Mont Ethos: 800-689-1275
Athlete Application
The following questions are designed to give us a better understanding of who you are and what you are looking to get out of your relationship with Mon Ethos.