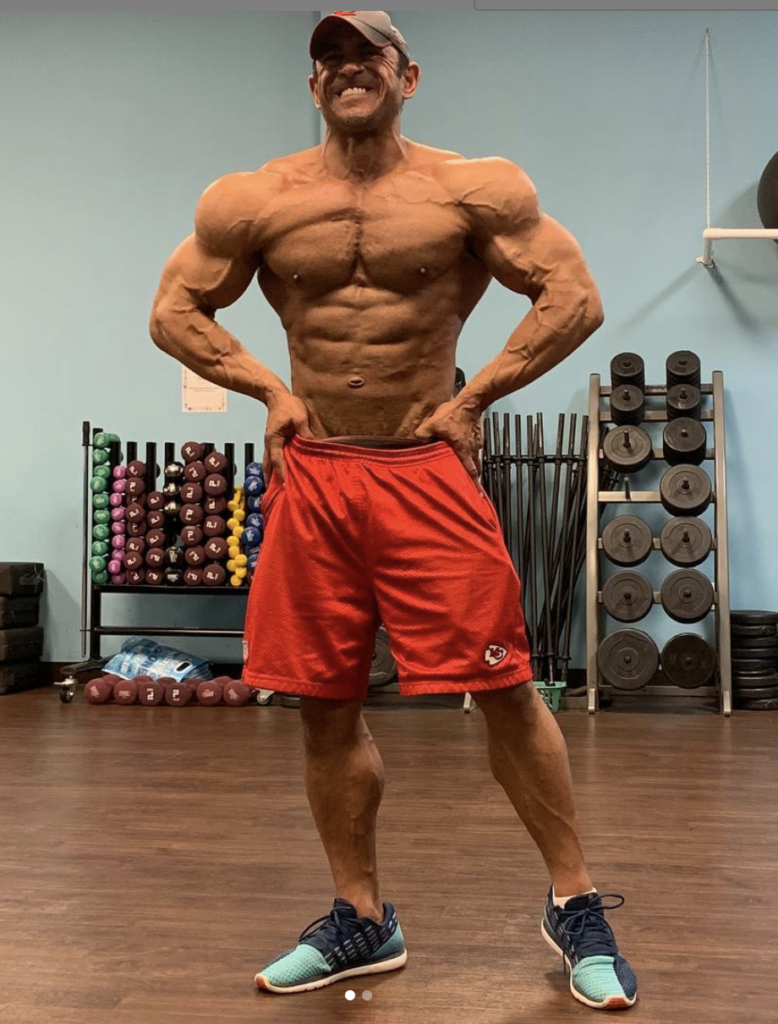 Scott Schulze
Scott Schulze was born and raised in Kansas City Missouri. Scott grew up playing  sports but really excelled in the sport of basketball. Took an early interest in bodybuilding at the young age of 8 due to an uncle that was a bodybuilder in the era of Arnold back in the Golden days of bodybuilding. Scott started studying the sport at that time but it wasn't until he was finished with high school basketball that he fell in love with an developed a passionate interest in bodybuilding. This was due to both changes he was seeing in his physique and to paying close attention to the top guys in the sport in the 90s when the sport was at what is considered its prime (the 1990s).
Scott competed from 2001 to 2003 and had a successful run, placing well in top local and regional shows. He then took time off to pursue another passion: To investment management and raising a family. Fast forward to 2012 Scott had a burning desire again for the stage and was extremely successful with a new division called Men's Physique. After winning a few NPC shows he tried his luck at a National show called North Americans in 2016 and placed 1st, earning his pro card.
Scott has done very well on the pro level and has reached that top tier in the sport, competing on the prestigious Arnold Classic stage twice and placing very well at some large level shows. Scott is an Allmax sponsored athlete and bodybuilding coach as well as personal & online trainer to clients all around the globe. He is married with 5 children and has many interests outside the sport but remains extremely passionate about continuing to improve and reach that Olympia stage and pursue other opportunities within the fitness industry.
Scott owns a bodybuilding coaching business: Team Schulze Physique Coaching. He coaches both online and in person. Works with every division. He is very hands on and involved with his clients and that shows by the success his team have had on the local, national and pro levels.
"It's a true passion of mine. A philosophy that I live by is "win daily" both for myself and my athletes. It's a stance of keeping it simple and doing what works without complicating things and just doing the damn work! That's where the results come from!" says @scottschulzeofficial
July 8, 1979
40
Place of birth: Kansas City
5'10
Black
Muscular
No
No
In the off-season I train 5 days a week with heavy and intense training focused on mind muscle connection and time under tension to maximize growth.
During prep my volume increases a little and I start doing cardio daily. Of course nutrition is changed as well.
Genesis Health Clubs, OGKC, Club7, The Forge.
I'm sponsored by Allmax. Suplements I use: Allmax Isoflex, Carbion, Allmax Impact pre workout, creatine monohydrate, Allmax Acuts (caffeine fueled aminos) and glutamine.
Deftones
Eminem
The Weekend
What was your last bodybuilding competition and what did you place?
Mile high pro 2019-7th
What prior competitions have you been to and what did you place in those?
Arnold classic 2018 & 19
Mile high 2017
Nebraska pro 2018
What competitions have you won?
USA midway
Npc KC allstars
North Americans 2016 (pro card)
When/where is your next competition?
Don't know yet
Sports, Hobies, & Fitness
Arts
Baseball
Football
Guitar
Juggling
Parachuting
Photography
Playing music
Sky Diving
Writing
Writing Songs
What Sports Do You Play?
Bodybuilding
Bowling
Weightlifting
Basketball
Ballooning
Skydiving
What sports do you watch?
Bodybuilding
Gymnastics
Ice skating
Figure skating
Speed skating
Running
Sprint
Weightlifting
Powerlifting
Baseball
Basketball
Football
Gridiron football
Bull riding
Tell us about the spots you have played:
Basketball was my life until I fell in love with bodybuilding. I played football, baseball, and am undefeated in air hockey my entire life!
Tell us about your favorite teams:
Kansas City Chiefs
KC Royals
St Louis Cardinals
Kearney Bulldogs. Football is huge for high school in my small suburban/rural town.
About Mon ethos
Mon Ethos seeks to provide a customized level of service to its clients. By combining executive level talent management with the necessary business development tools Mon Ethos generates greater revenue and rewards to and interest in the athletes, artists and executives who take advantage of Mon Ethos wide range of services.
Through a hyper-intensive approach, we take talented individuals in their most raw form, fortify and develop their brand with a wide variety of resources and propel them into the next and highest level of their specific field. Whether it is the development of a website or a press release, Mon Ethos takes the utmost care in crafting a work product that is far superior than all others in our industry.
Our clients range from business executives reaching for the next level of management, or professional athletes looking to expand their revenue into areas other than their specific sport; all come to Mon Ethos for our professionalism and dedication to them and to our work.
Contact Mont Ethos: Phone: 800-689-1275
Athlete Application
The following questions are designed to give us a better understanding of who you are and what you are looking to get out of your relationship with Mon Ethos.