Sarah Gayden is an IFBB Bikini Pro athlete, owner and manager of a California based fitness apparel company, a fitness-centered chef/cook, and also coaches for posing.
| | |
| --- | --- |
| Age | 35 |
| Height | 5'2 |
| Weight | 110 lbs |
| Hair Color | Black |
| Body Type | Athletic |
| Location | |
| Piercings | No |
| Tattoos | Yes |
| Neck Size | |
| Dress Shirt Size | Xs/S |
| Pant Size | 1 |
| Shoe Size | 36 |
Sports, Hobbies, & Fitness
What was your last bodybuilding competition and what did you place?
Musclecontest Iron Games 14th Place
What prior competitions have you been to and what did you place in those?
Sacramento Pro Bikini- 10th
Musclecontest Pacific USA – 8th
What competitions have you won?
Amateur:
– San Diego Border states – Overall Champion
– LA Grand Prix – Overall Champion
– 5 1st Place Finisher.
Bikini Pro:
none yet
When/where is your next competition?
Tokyo Japan – Nov 14.
Possibly in the 2019 agenda:
San Diego Pro Bikini 3/30/19
Salt City Showdown Pro Bikini 4/13/19
Pittsburg Pro 05/03-04
New York Pro Bikini 5/18/19
Toronto Pro Supershow – Canada 06/01-02
Briefly describe your current workout regimen
Workout 7x a week twice a day.
60-80 min of cardio a day.
I'm on competition season right now.
What is the name and location of the gym that you currently work out at?
24hr fitness/ eos fitness
What supplement brands do you currently use?
Performix/Global Formulas/Body by O
What are your Top 3 songs to workout to?
Dance music/Dubstep/Trapp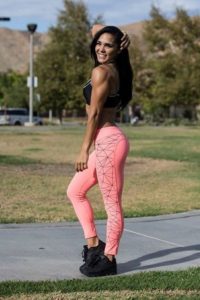 What are your hobbies?
Arts
Basketball
Beach/Sun tanning
Body Building
Bringing Food To The Disabled
Building A House For Habitat For Humanity
Cooking
Dancing
Eating out
Educational Courses
Exercise (aerobics, weights)
Internet
Inventing
Learning A Foreign Language
Learning An Instrument
Listening to music
Motorcycles
People Watching
Photography
R/C Boats
Reading
Relaxing
Running
Scuba Diving
Shopping
Snorkeling
Spending time with family/kids
Traveling
Weightlifting
Yoga
Zumba
What sports do you play?
Bodybuilding
Diving
Middle-distance Running
Underwater Diving
Weightlifting
What sports do you watch?
Bodybuilding
Gymnastics
Synchronized Swimming
Underwater Diving
Weightlifting
Basketball
Rhythmic Gymnastics
Tell us about the sports you have played.
Volleyball