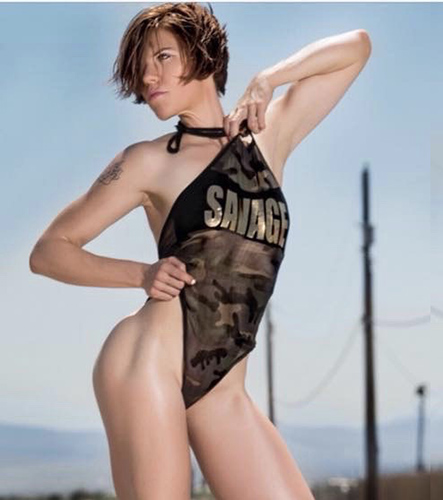 Age:

32

Height:

5'7

Weight:

130 lbs

Hair Color:

Red

Body Type:

Athletic

Piercing:

No

Tattoos:

Yes

Dress Shirt Size:

M

Shoes Size:

6.5
Nikki Pitts is a personal trainer and an NPC Bikini competitor. "I'm a single mom of 3 (two girls and one boy). I am a personal trainer and working on coming out with MuscleMom clothing line while on my road to become a IFBB Bikini Pro. I live in Vegas, where I have been back home since 2006 and love how big the fitness industry is out here." says @musclemom29
Nikki's transformation is simply amazing. "Over the years from having three children I gained a lot of weight, I had tons of friends in the bodybuilding sport and I loved watching them at the shows. I had been a big fan of Flex Wheeler and Becky Bodi since I saw them on stage. I decided it was time for a life change. Weighed 180 at 5'6 and wanted to do my first show in Las Vegas Classic 2016, quite a journey! placed 3rd at my very first show and fell in love with the stage."
Nikki now helps others to reach their goals and according to her,  she loves every minute of it. "Being a mom of three and competing is challenging but totally worth every minute as I say nothing worth having comes easy. I believe you can do anything you put your mind to. I have also done some modeling, worked as a show girl. My goal in life is to show my kids you can have everything you want in life you just have to work hard for it."
Competitions
What was your last bodybuilding competition and what did you place?
My last bikini competition was Sampson productions showdown – placed 4th
What prior competitions have you been to and what did you place in those?
Sampson Ace of Stage – placed first
Desert Classic Las Vegas – placed 6th
Jay Cutler – placed 1st.
NPC Classic – placed 3rd
Jay Cutler 2017 – placed 6th and 7th in open
Sampson showdown – 4th place
What competitions have you won?
Sampson Ace of Stage and Jay Cutler's
When/where is your next competition?
TBD – Mid 2021
FITNESS REGIMEN
Briefly describe your current workout regimen
I workout 6 days a week mixed with weightlifting and HITT workout. I right now do 20 min per day and no I'm not in prep, I'm in improvement season.
What is the name and location of the gym that you currently work out at?
Las Vegas Lift Factory
What supplement brands do you currently use?
What are your Top 3 songs to work out to?
Any of Sean Paul's music, rockstar de baby, on leg day any of bush songs
Hobbies
What are your hobbies?
Animals / Pets / Dogs
Becoming a child advocate / Bringing food to the disabled
Bodybuilding / Basketball / Bicycling / Football
Camping / Canoeing / Traveling
Meditation / Yoga
Sports
What sports do you play?
Bodybuilding / Weightlifting / Cycling
Tell us about your favorite teams 
Chicago Bears, Lakers, Bulls, Cowboys, USA soccer team
About MonEthos
Mon Ethos seeks to provide a customized level of service to its clients. By combining executive level talent management with the necessary business development tools Mon Ethos generates greater revenue and rewards to and interest in the athletes, artists and executives who take advantage of Mon Ethos wide range of services.
Through a hyper-intensive approach, we take talented individuals in their most raw form, fortify and develop their brand with a wide variety of resources and propel them into the next and highest level of their specific field. Whether it is the development of a website or a press release, Mon Ethos takes the utmost care in crafting a work product that is far superior than all others in our industry.
Our clients range from business executives reaching for the next level of management, or professional athletes looking to expand their revenue into areas other than their specific sport; all come to Mon Ethos for our professionalism and dedication to them and to our work.
Contact Mont Ethos: 800-689-1275
Athlete Application
The following questions are designed to give us a better understanding of who you are and what you are looking to get out of your relationship with Mon Ethos.