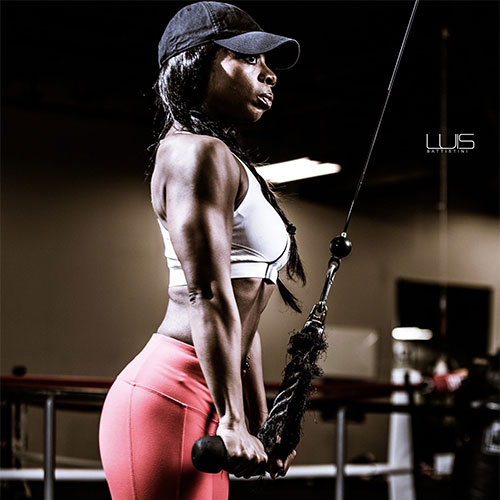 Age:

32

Height:

5'2

Weight:

116 lbs

Hair Color:

Dark Brown

Body Type:

Athletic/Petite

Pircing:

Yes

Tattoos:

Yes

Dress Shirt Size:

XS

Shoes Size:

6
Monique Thomas is a NPC Bikini competitor residing in Tampa, Florida. Originally from New Rochelle, New York, Monique went to Florida Gulf Coast University where she received a Bachelor's of Science in Forensic Studies before returning to New York to complete her Master's of Education in School Counseling. Monique currently works as a Middle School Counselor and her passion for the health and fitness industry is as strong as ever.
At present Monique is pursing her goals of becoming a competitive IFBB Bikini Pro, getting into fitness modeling, and aspires to one day have her own athletic/performance apparel line. Monique strongly believes that regardless of the adversity a person has been through with unrelenting determination and persistence we all have the capacity to make our dreams come true, and seeks to be an advocate for people when they can't be for themselves. A favorite quote that she lives by is, "what a beautiful thing it is to be able to stand tall and say, I fell apart and I survived"– Unknown.
Competitions
What was your last bodybuilding competition and what did you place?
December 2019, NPC Holiday Classic Open Class B 5th Place
What prior competitions have you been to and what did you place in those?
Aside from the NPC 2019 Holiday Classic, for my first competition in the world of bodybuilding I competed in the NPC 2016 Eastern Championship where I came in 9th place.
What competitions have you won?
That win hasn't come yet but it is currently loading. Bringing a completly different look to the stage and I'm so eager to display all my hardwork and improvement.
When/where is your next competition?
NPC Tampa Extravaganza 2020, Tampa, Florida. August 1, 2020.
FITNESS REGIMEN
Briefly describe your current workout regimen
I'm currently in prep and am working out in some way everyday of the week. I am currently lifting 6 days a week and rotate between HIIT and LISS cardio 7 days a week.
What is the name and location of the gym that you currently work out at?
Crunch Hillsborough – Tampa, Florida
What supplement brands do you currently use?
Evolution Nutrition
What are your Top 3 songs to work out to?
Lose Yourself- Eminem
Drop the World- Lil Wayne
This is Me- The Greatest Showman Soundtrack
Hobbies
What are your hobbies?
Animals / Pets / Dogs
Hiking
Walking
Sewing
Traveling
Sports
What sports do you play?
Bodybuilding / Bikini division
Tell us about the sports you have played
I ran one season of Winter Track and Field for the high school when I was in middle school.
About MonEthos
Mon Ethos seeks to provide a customized level of service to its clients. By combining executive level talent management with the necessary business development tools Mon Ethos generates greater revenue and rewards to and interest in the athletes, artists and executives who take advantage of Mon Ethos wide range of services.
Through a hyper-intensive approach, we take talented individuals in their most raw form, fortify and develop their brand with a wide variety of resources and propel them into the next and highest level of their specific field. Whether it is the development of a website or a press release, Mon Ethos takes the utmost care in crafting a work product that is far superior than all others in our industry.
Our clients range from business executives reaching for the next level of management, or professional athletes looking to expand their revenue into areas other than their specific sport; all come to Mon Ethos for our professionalism and dedication to them and to our work.
Contact Mont Ethos: 800-689-1275
Athlete Application
The following questions are designed to give us a better understanding of who you are and what you are looking to get out of your relationship with Mon Ethos.