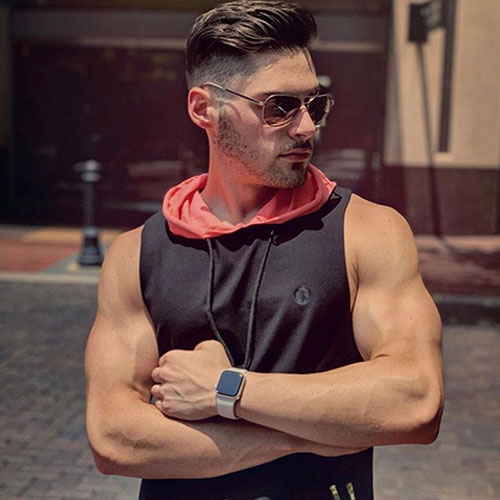 Age:

21

Height:

5'10

Weight:

185 lbs

Hair Color:

Brown

Body Type:

Athletic/Fit/Slim

Pircing:

No

Tattoos:

Yes

Dress Shirt Size:

L

Shoes Size:

9.5
Max Wolf comes from a strong background of fitness and sports. Playing almost every sport growing up gave him a good background in the discipline and strength needed to pursue any goal and make things happen. Max got into bodybuilding and weight training in 2012, and competed in his first show in the summer of 2018.
Although he loved the stage and world of bodybuilding, his real passion was entrepreneurship and turning ideas into realities. He started his own supplement company; Elite Form Nutrition in the fall of 2019. When he is not traveling and working on his company, he loves being in front of the camera and pursuing his modeling career. He has been modeling off and on since he was a child. He has been nationally published for his work with various magazines and music producers. Max embodies the lifestyle and hustle of everything surrounding the fitness, wellness, and modeling world.
Talent
Have you ever competed in bodybuilding and what did you place?
Yes in 2018, 4th in class
Tell us about your talent
My passion is entrepreneurship and turning ideas into realities. That's why I started my own supplement company; Elite Form Nutrition. I've been also passionate about modeling.
Tell about your hobbies and interests
I like acting, playing the guitar, photography, and modeling among others
FITNESS REGIMEN
Briefly describe your current workout regimen
7, fasted cardio AM, weights or hit in PM. Not on prep. Staying ready and conditioned for any shoots year round.
What is the name and location of the gym that you currently work out at?
Dynamic Fitness, sugar land
What supplement brands do you currently use?
Elite Form Nutrition // Black Market // Dymatize
What are your Top 3 songs to work out to?
Drake
Dababy
Jay z
Hobbies
What are your hobbies?
Animals / Pets / Dogs
Movies
Motorcycles
Running
Self Defense
Sports
What sports do you play?
Bodybuilding / Martial arts / Running / Shot put / weightlifting / football
Tell us about the sports you have played
Peewee through highschool, basketball, football, baseball, & mma.
About MonEthos
Mon Ethos seeks to provide a customized level of service to its clients. By combining executive level talent management with the necessary business development tools Mon Ethos generates greater revenue and rewards to and interest in the athletes, artists and executives who take advantage of Mon Ethos wide range of services.
Through a hyper-intensive approach, we take talented individuals in their most raw form, fortify and develop their brand with a wide variety of resources and propel them into the next and highest level of their specific field. Whether it is the development of a website or a press release, Mon Ethos takes the utmost care in crafting a work product that is far superior than all others in our industry.
Our clients range from business executives reaching for the next level of management, or professional athletes looking to expand their revenue into areas other than their specific sport; all come to Mon Ethos for our professionalism and dedication to them and to our work.
Contact Mont Ethos: 800-689-1275
Athlete Application
The following questions are designed to give us a better understanding of who you are and what you are looking to get out of your relationship with Mon Ethos.