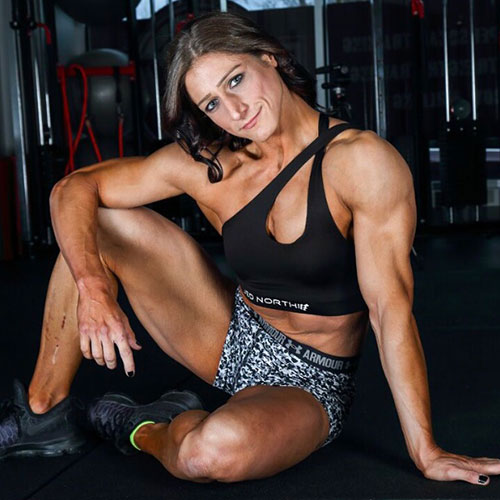 Age: 

37

Height: 

5'6

Weight: 

160 lbs

Hair Color: 

Light brown

Body Type: 

Muscular

Pircing: 

Yes

Tattoos: 

No

Dress Shirt Size: 

M

Shoes Size: 

8
Lisa started working out when she was younger as a means of losing weight. "I was overweight and self-conscious as a kid and I thought that losing weight was the solution. I lost weight but I didn't really know what I was doing in the gym. Eventually, I learned about and began lifting weights along with getting stronger and losing more weight along the way, I developed a sense of self and a confident demeanour", says @ifbbpro_lisak_t
What began as an attempt to lose weight led to a career as a personal trainer and competition in the Women's Physique category. The result of all of this hard work led to an overall win at the Canadian National Pro Qualifier in October 2019 and an IFBB Pro Card. "Now I'm setting my sights on the future and working hard to make a name for myself in the IFBB Pro League".
Competitions
What was your last bodybuilding competition and what did you place?
October 19, 2019 – Canadian National Pro Qualifier – placed 1st in my height class in Women's Physique Open and I also won the overall title.
I placed first in my height class in Women's Physique Masters and I also won the overall title in that category.
I earned my IFBB Pro card as well.
What prior competitions have you been to and what did you place in those?
WOMEN'S PHYSIQUE
2019 CPA Legends Cup – 1st overall 2017 CBBF Ben Weider Legacy Cup – 3rd
2017 CBBF Nationals – 2nd
2017 OPA Ontario Provincial Championships – 1st overall
2016 CBBF Nationals – 12th
2016 OPA Ontario Provincial Championships – 5th
2016 OPA Festival City Championships – 1st overall
2015 OPA Stephanie Worsfold Classic – 2nd
FIGURE
2014 OPA London Championships – 7th
2014 OPA Fouad Abiad Championships – 3rd
2013 OPA Stephanie Worsfold Classic – 5th
2013 OPA Festival City Championships – 7th
What competitions have you won?
2019 Canadian National Pro Qualier 2019 Legends Cup
2017 Ontario Provincial Championships 2016 Festival City Championships
FITNESS REGIMEN
Briefly describe your current workout regimen
I workout 6-7 days per week usually on a training split. I do 1 hour of cardio per day. I am in prep but competition is still up in the air.
What is the name and location of the gym that you currently work out at?
Brady's Fitness in Tecumseh, Ontario CAN
What supplement brands do you currently use?
Allmax // GNC
What are your Top 3 songs to work out to?
Eminem – Like a Boss
Eminem & 2Pac – Ragnar Lothbrok (YouTube video/song remix)
Robert Tepper – No Easy Way Out (Rocky IV)
Hobies
What are your hobbies?
Acting
Dancing
Music
Foreign languages
Writing
Sports
What sports do you play?
Bodybuilding / Boxing / Figure skating / Weightlifting
Tell us about the sports you have played
I became really involved in weight lifting in high school and began boxing.
About MonEthos
Mon Ethos seeks to provide a customized level of service to its clients. By combining executive level talent management with the necessary business development tools Mon Ethos generates greater revenue and rewards to and interest in the athletes, artists and executives who take advantage of Mon Ethos wide range of services.
Through a hyper-intensive approach, we take talented individuals in their most raw form, fortify and develop their brand with a wide variety of resources and propel them into the next and highest level of their specific field. Whether it is the development of a website or a press release, Mon Ethos takes the utmost care in crafting a work product that is far superior than all others in our industry.
Our clients range from business executives reaching for the next level of management, or professional athletes looking to expand their revenue into areas other than their specific sport; all come to Mon Ethos for our professionalism and dedication to them and to our work.
Contact Mont Ethos: 800-689-1275
Athlete Application
The following questions are designed to give us a better understanding of who you are and what you are looking to get out of your relationship with Mon Ethos.