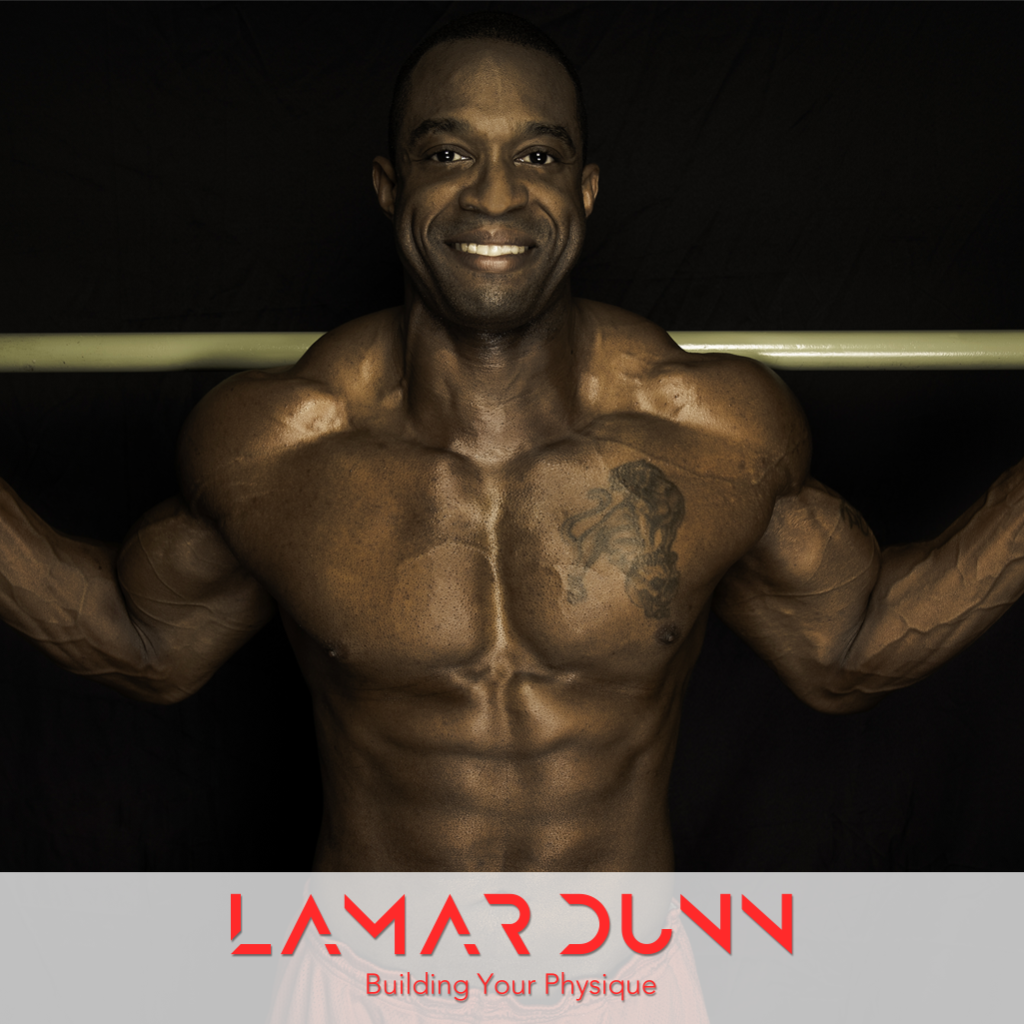 LAMAR DUNN
Originally from Troy, Alabama, Lamar had the privilege of being raised in the south by two loving parents who taught him how to work hard for what you want and to always maintain a high level of integrity, honor, and character in all that you do. Those invaluable teachings are his guide today. According to Lamar "Those lessons learned are what give me the insatiable drive to work hard every day and deliver that same level of dedication and passion to my clients through results that not only transform their bodies but also their minds, and ultimately their lives for the better".
Lamar grew up in "decent shape" but as many people allowed himself dedication for periods, typically in spring and summer, but in periods such as winter he also allowed some carelessness. Until the day came when he decided that he would never move forward and back again because his health was very important. So it was on that day where he decided to transform his "seasonal fitness mindset" and began creating and executing on a vision for the mindset and body that he wanted to build. From that day 'til now he's been pursuing that passion one rep and one mile at a time.
With that in mind, as a coach, Lamar believes in teaching his clients to create a realistic vision for the body they want and then provide them with the daily guidance, motivation, and inspiration to go out and sculpt it one rep at a time. It's this same passion, hunger, and drive that he brings to all his clients, as he helps teach them about the importance of creating a vision for a healthy lifestyle and then push them to commit to living it day-by-day.
This champ is a real fan of fitness. "I truly love to motivate and inspire daily. There is no greater feeling than knowing you have helped change someone's life for the better. I am excited and ready to be the Coach and fitness professional that inspires you and helps you transform your life into the healthiest version of who you want to be", says @lamardunnfitness
Saturday, July 23, 1977
Age: 42
5'11"
215
Black
Yes
es
Troy, Alabama.
My last two competitions were the Maryland State Championship where I won Class D in mens physique and top 3 in Classic. I Also competed in Masters nationals placing top ten in physique.
I have also competed nationally at North Americans and Team Universe where I placed top 5 in Classic physique.
Maryland State
East coast Classic
Big Cat Classic
I have not decided yet but the goal is to compete in early 2020 to battle for my pro card.
Sports, Hobbies, & Fitness
Currently trains with weights 6 days a week and cardio ranges from 3-5 times per week depending on how lean he is on any given week and adjusted accordingly. He's not currently on prep as he's in his improvement season.
Waldorf Fitness Center in Waldorf, MD
Currently use The Wild Research brand.
Non Stop By Drake
Radioactive  by Imagine Dragons
Savage by Tank
Acting
Boating
Body Building
Bowling
Computer activities
Golf
Gun Collecting
Models
Motorcycles
Playing music
Relaxing
Spending time with family/kids
Watching sporting events
individual
Bodybuilding
Bowling
Shooting
Running
Powerlifting
Basketball
Bowling
Football
Bodybuilding
Boxing
Golf
Weightlifting
Powerlifting
Basketball
Football (soccer)
About Mon ethos
Mon Ethos seeks to provide a customized level of service to its clients. By combining executive level talent management with the necessary business development tools Mon Ethos generates greater revenue and rewards to and interest in the athletes, artists and executives who take advantage of Mon Ethos wide range of services.
Through a hyper-intensive approach, we take talented individuals in their most raw form, fortify and develop their brand with a wide variety of resources and propel them into the next and highest level of their specific field. Whether it is the development of a website or a press release, Mon Ethos takes the utmost care in crafting a work product that is far superior than all others in our industry.
Our clients range from business executives reaching for the next level of management, or professional athletes looking to expand their revenue into areas other than their specific sport; all come to Mon Ethos for our professionalism and dedication to them and to our work.
Contact Mont Ethos: Phone: 800-689-1275
Athlete Application
The following questions are designed to give us a better understanding of who you are and what you are looking to get out of your relationship with Mon Ethos.