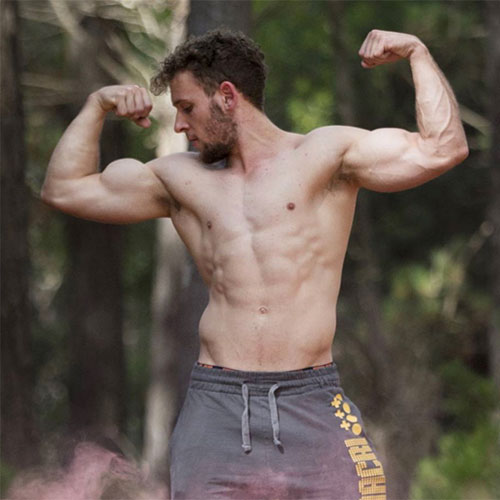 Age:

24

Height:

5'9

Weight:

191 lbs

Hair Color:

Brown

Body Type:

Athletic

Pircing:

No

Tattoos:

Yes

Dress Shirt Size:

XL

Shoes Size:

11
Kurtis is a 24 years old truck driver and personal trainer. He's also a men's physique competitor looking to now transition over to open bodybuilding in the coming years.
"I was born in a small town called Albany within Western Australia but now live in Perth. My next competition that I have planned will be an IFBB Pro league show in the amatuer league and will be in the next 3-4 years once I have progressed my physique more. I have competed at the IFBB omara classic 2017 in the men's physique division in which I placed 4th in the tall division. Initially I started bodybuilding to feel more confident in myself and to get myself out of a bad depression, where I was drinking heavy and not looking after my body in any aspect of life. From that moment I wanted to improve myself as a person, to get bigger and stronger & to also improve mentally. Over the years my goals have changed as I have formed a really strong passion for bodybuilding in which my goals have shifted over to competitive bodybuilding. I am constantly reminding myself to always remember why I started and that at the end of the day if you aren't doing this for yourself then to me there's no point", says @kurtislewisfitness66
"My goals for the future is to progress into open bodybuilding as that is where my heart and passion lies. To do so I aim to hit the 100 kg mark in terms of body weight while being lean, and also having to keep an eye on my proportions as we sculpt the body differently to what we would in the men's physique category. My main drive to achieve these goals other than my own drive to be the best I can possibly be, would be my late grandfather as he was like my mentor and was always there to push me, make me focus and keep me humble. Ultimately I would love to work my way up the ranks competitively and earn my pro card in open bodybuilding".
Competitions
What was your last bodybuilding competition and what did you place?
IFBB O'Mara Classic 2017 – 4th
What prior competitions have you been to and what did you place in those?
None
What competitions have you won?
None
When/where is your next competition?
Next competition will be in a few years in the open bodybuilding class at an IFBB pro league show in Perth WA
FITNESS REGIMEN
Briefly describe your current workout regimen
I currently work out 5 days a week & have 2 rest days. No cardio & currently offseason
What is the name and location of the gym that you currently work out at?
Golds gym Rockingham
What supplement brands do you currently use?
Prosupps
What are your Top 3 songs to work out to?
Kickback – Stray from the path
War – Palisades
Absolute power – Parkway drive
Hobbies
What are your hobbies?
Animals / Pets / Dogs
Guitar
Hiking
Music
Photography
Sports
What sports do you play?
Bodybuilding
Tell us about the sports you have played
I have previously played soccer, tennis, fencing, swimming & baseball in primary school and then in high school I started bodybuilding at 15 years of age
About MonEthos
Mon Ethos seeks to provide a customized level of service to its clients. By combining executive level talent management with the necessary business development tools Mon Ethos generates greater revenue and rewards to and interest in the athletes, artists and executives who take advantage of Mon Ethos wide range of services.
Through a hyper-intensive approach, we take talented individuals in their most raw form, fortify and develop their brand with a wide variety of resources and propel them into the next and highest level of their specific field. Whether it is the development of a website or a press release, Mon Ethos takes the utmost care in crafting a work product that is far superior than all others in our industry.
Our clients range from business executives reaching for the next level of management, or professional athletes looking to expand their revenue into areas other than their specific sport; all come to Mon Ethos for our professionalism and dedication to them and to our work.
Contact Mont Ethos: 800-689-1275
Athlete Application
The following questions are designed to give us a better understanding of who you are and what you are looking to get out of your relationship with Mon Ethos.