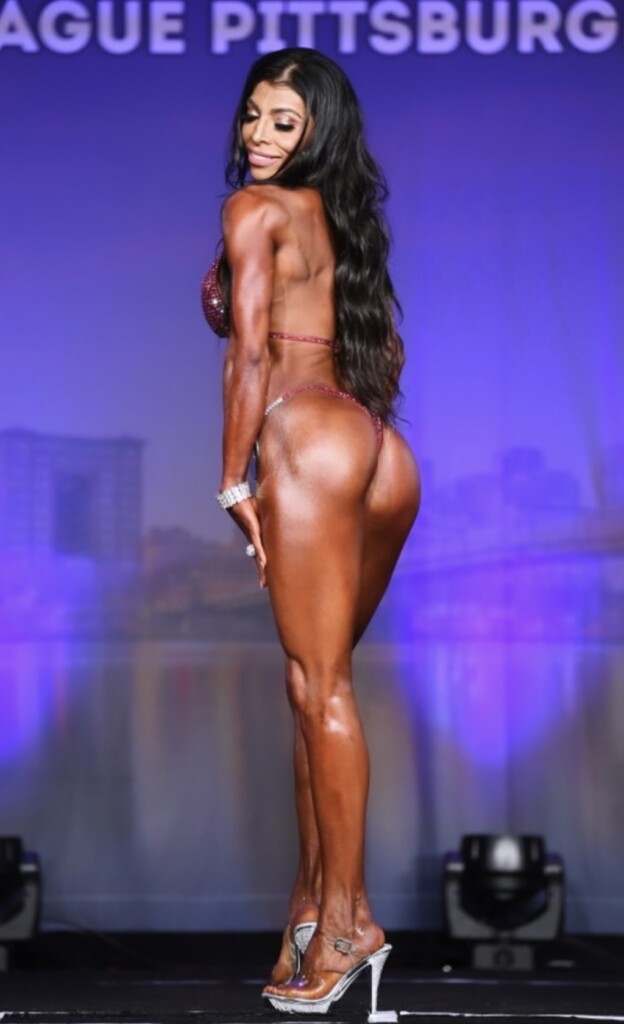 Kimberly Roxanne Sermeno
Kimberly is a U.S. citizen who was born and raised in El Salvador. She is proudly the first IFBB Pro from her country. She resides within the City of San Juan Capistrano and is a nutrition student very close to getting her degree from Saddleback College.  Kim is an early morning person, loves running and doing spinning classes.
Kimberly has been competing in NPC events since 2016. As far as hobbies and other interests there is the gym of course and playing soccer like when she was 18 years old in El Salvador. Kimberly is definitely a people person and she has a great personality. She's the mom of a nine years old boy and likes taking long drives.
Kimberly owns a bathing suit company that offers competition suits for both figure and bikini competitors.  Expanding business to do low-end bikinis, and soon tank top shirts, regular shirts, hoodies, and sweatpants for regular customers.
Friday, November 19, 1982
36
Place of birth: El Salvador
5'7
125
Black
Athletic
No
Yes
What was your last bodybuilding competition and what did you place?
NPC North Americans, Pittsburgh. 35, open, First Place.
What prior competitions have you been to and what did you place in those?
Team Universe, New Jersey, 35, open – 4th
Masters Nationals, Pittsburgh – 35, open – 2nd
USA Muscle contest, Las Vegas – 35, open – 10th
What competitions have you won?
Amateur:
NPC Muscle contest, Curver City, Los Angeles 2017 – First place open and overall champion
Bikini Pro:
NPC North Americans, Pittsburgh. 35, open. First Place.
When/where is your next competition?
Sacramento – Nov 2nd.
Curver City, Los Angeles – Nov 9.
Sports, Hobies, & Fitness
Bicycling
Body Building
Cooking
Exercise (aerobics, weights)
Learning A Foreign Language
Listening to music
Running
Sewing
Shopping
Soccer
Spending time with family/kids
Swimming
Traveling
Walking
Weightlifting
What Sports Do You Play?
bodybuilding
floor exercise
running
sprint
What sports do you watch?
running
weightlifting
powerlifting
basketball
Tell us about the spots you have played:
Tell us about your favorite teams:
Barcelona soccer team
About Mon ethos
Mon Ethos seeks to provide a customized level of service to its clients. By combining executive level talent management with the necessary business development tools Mon Ethos generates greater revenue and rewards to and interest in the athletes, artists and executives who take advantage of Mon Ethos wide range of services.
Through a hyper-intensive approach, we take talented individuals in their most raw form, fortify and develop their brand with a wide variety of resources and propel them into the next and highest level of their specific field. Whether it is the development of a website or a press release, Mon Ethos takes the utmost care in crafting a work product that is far superior than all others in our industry.
Our clients range from business executives reaching for the next level of management, or professional athletes looking to expand their revenue into areas other than their specific sport; all come to Mon Ethos for our professionalism and dedication to them and to our work.
Contact Mont Ethos: Phone: 800-689-1275
Athlete Application
The following questions are designed to give us a better understanding of who you are and what you are looking to get out of your relationship with Mon Ethos.