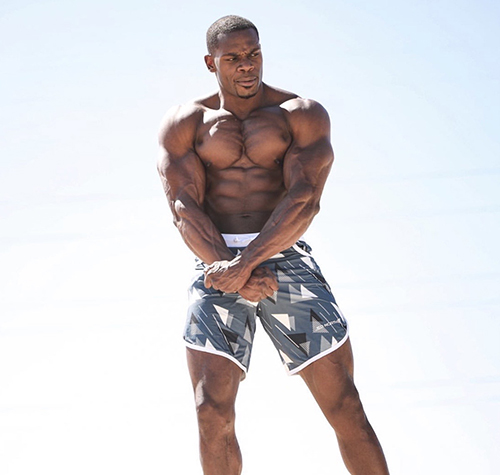 Age:

38

Height:

6'2

Weight:

235 lbs

Hair Color:

Black

Body Type:

Athletic

Pircing:

No

Tattoos:

No

Dress Shirt Size:

XXL

Shoes Size:

13
On May 17th in Southwest Houston Texas a skinny baby boy by the name of Khalfani "Khali" Quartey was born. Now everyone that was in the room that day knew that this wasn't an average child once he smacked the Doctor after the Doctor smacked Khali's behind to try and make him cry plus breath. Growing up in the Southwest side of one of the largest cities in the United States was quite interesting. Khali was surrounded by so much crime, had been close to death being robbed at gun point at different times in his youth and knew this was not the type of environment that he wanted to grow up in or life that he wanted to live. These various experiences helped take the skinny kid from the streets to find refuge within the fitness realm. 
Facing difficulties growing up, trying to make extra money, while trying to make it through school all while not trying to get in trouble Khali started to exercise. He didn't know much about training so he just did calisthenics which consisted of push-ups, pull-ups, dips and body squats, plus he ate a lot to go from his 6'2 160 pound frame to 205 pounds over the period of a summer. He fell in love with the the thought of transforming his body and always wondered if he could transform others the same way. He kept eating and growing as a test to see how big he could get and grew all the way into a whopping 285 pound frame in a short period of time still eating and doing calisthenics. The weight was put on to fast so it was unhealthy and uncomfortable so he set a goal to shred down within the next few months and 4 months later was 215 pounds and cut up from calisthenics. As he cut this time he ended up getting various certifications and learning the mechanics of the body, learned about nutrition and the many benefits of cardio and put all of those things into practice. Along his cutting journey he took 7 people with him and they all followed his guidance and went from overweight to lean as well. 
At this time in his life Khali wanted a new challenge. Khali was always a competitor and everything that he did while growing. One day in 2014 a friend approached Khali with a challenge to enter into the biggest Bodybuilding show in Texas so Khali took him up on the challenge. He trained himself and a couple of other friends, did everyone's nutrition and Khali and his friends/clients placed in the top 5 in their very first men's physique competition in the NPC (National Physique Committee). This sparked a fire under him as he finally started lifting weights and saw how he could transform his body and the bodies of others. Khali then won an overall title at the 2014 Branch Warren Classic as the judges in Texas sent him along his way to go compete at the National ranks against the best Bodybuilding athletes in the United States. One year and 3 months later Khali turned into an IFBB Men's Physique Professional at Pittsburgh North American Championships beating all of the best in the United States, Canada and Mexico in his respective class. 
Ever since Khali turned Pro he's made it his goal to be a student of the Bodybuilding sport which saved him from being another statistic in the streets of Southwest Houston and continue to learn about training into the point of becoming a master Trainer. His ambition, love, and passion for weight lifting and helping others has allowed him to qualify for the 2018 and 2020 Bodybuilding Olympia which is the biggest Bodybuilding show in the world and has also allowed him to help and transform many people from all walks of life from all around the world. Although he has reached many great feats Khali's story is only beginning so please continue to follow his journey as the story continues to be written.
Competitions
What was your last bodybuilding competition and what did you place?
My last show was San Antonio Pro and I won first place
What prior competitions have you been to and what did you place in those?
Every show that I do I pretty much place in the top 5. I am also currently 2020 Olympia qualified
What competitions have you won?
San Antonio Pro.
When/where is your next competition?
Not sure when I'll compete again maybe something closer to the Olympia just to practice my dance moves on stage before the Olympia lol.
FITNESS REGIMEN
Briefly describe your current workout regimen
I train 5 days per week, sometimes 6\. I currently do no cardio during the week as I have been bulking. I am not on prep but am enjoying my off season.
What is the name and location of the gym that you currently work out at?
24 hour fitness galleria Houston
What supplement brands do you currently use?
Evogen supplements
What are your Top 3 songs to work out to?
I listen to the weights clacking and my rhythmic breathing while I train! I don't need music or I'll just hear whatever is playing on the loud speakers.
Hobbies
What are your hobbies?
Acting
Learning
Music
Martial arts
Photography
Sports
What sports do you play?
Bodybuilding / Boxing / Table tennis / Bowling
Tell us about the sports you have played
Basketball and football mainly but I can play just about any sport. I'm a natural even when trying something new.
About MonEthos
Mon Ethos seeks to provide a customized level of service to its clients. By combining executive level talent management with the necessary business development tools Mon Ethos generates greater revenue and rewards to and interest in the athletes, artists and executives who take advantage of Mon Ethos wide range of services.
Through a hyper-intensive approach, we take talented individuals in their most raw form, fortify and develop their brand with a wide variety of resources and propel them into the next and highest level of their specific field. Whether it is the development of a website or a press release, Mon Ethos takes the utmost care in crafting a work product that is far superior than all others in our industry.
Our clients range from business executives reaching for the next level of management, or professional athletes looking to expand their revenue into areas other than their specific sport; all come to Mon Ethos for our professionalism and dedication to them and to our work.
Contact Mont Ethos: 800-689-1275
Athlete Application
The following questions are designed to give us a better understanding of who you are and what you are looking to get out of your relationship with Mon Ethos.