Joshua Gross is a natural bodybuilder from Kentucky, training to succeed in competitions. Joshua is a cancer survivor and is also in school for cybersecurity.
| | |
| --- | --- |
| Age | 27 |
| Height | 5'9 |
| Weight | 172 lbs |
| Hair Color | Brown |
| Body Type | Bodybuilder |
| Location | |
| Piercings | No |
| Tattoos | No |
| Neck Size | 16 in |
| Dress Shirt Size | Medium |
| Pant Size | 30-30 |
| Shoe Size | 9.5 |
Sports, Hobbies, & Fitness
What was your last bodybuilding competition and what did you place?
NPC Covington KY Nov 3rd
What prior competitions have you been to and what did you place in those?
Middletown Ohio Oct 27th NGA
What competitions have you won?
A transformation challenge for $1000
Briefly describe your current workout regimen
I'm currently on prep I train 2x a day, 7 days a week. I do cardio for 70 minutes on the stair stepper and try to get 7000 steps. Then I lift weights (superset) and do HIIT on days other than leg day
What is the name and location of the gym that you currently work out at?
Crunch
What supplement brands do you currently use?
Bang
What are your Top 3 songs to workout to?
Lucky You
One More Time by Daft Punk
Nothing Else Matters by Metallica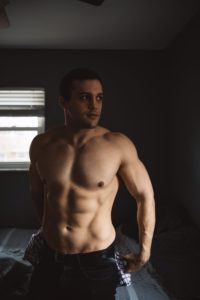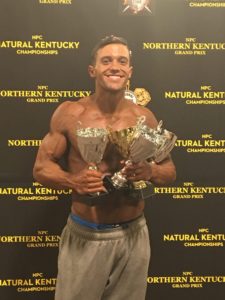 What are your hobbies?
Acting
Animals/pets/dogs
Body Building
Computer activities
Exercise (aerobics, weights)
Football
Hiking
Impersonations
Listening to music
Marksmanship
Martial Arts
Models
People Watching
Photography
Piano
Pipe Smoking
Rapping
Sleeping
Survival
Swimming
Traveling
Urban Exploration
Walking
Watching sporting events
Weightlifting
Writing
Writing Songs
What sports do you play?
Bodybuilding
Karate
Kung fu
Tai chi chuan
Tae kwon do
Weightlifting
Powerlifting
Wrestling
Basketball
Football
Football (soccer)
What sports do you watch?
Bodybuilding
Weightlifting
Powerlifting
Basketball
Football
Tell us about the sports you have played.
Football in high school , ran track (the 100m) (threw discuss but sucked)
Tell us about your favorite teams.
The Cincinnati Bengals and they look great this year! They haven't won a playoff game in my lifetime lol.