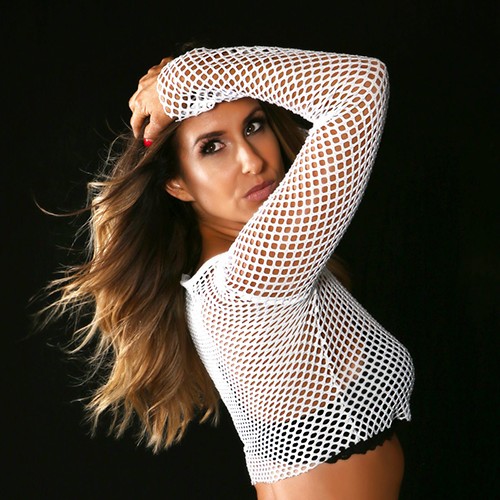 Age:

38

Height:

5'6

Weight:

140 lbs

Hair Color:

Brown

Body Type:

Athletic

Piercing:

No

Tattoos:

Yes

Dress Shirt Size:

S/M

Shoes Size:

8
Jessica Mifsud is a 38 year old mother of two beautiful girls. She has worked as a full time hair stylist for the last past 26 years. "I love making people feel beautiful" says Jessica, who shares the Instagram account @twogirlsandagym with Aimee Pourroy.
"I am also lover of all things health and fitness. I work really hard to be mentally and physically healthy. I want my girls to see that being healthy, strong, and confident is such a huge benefit in the world we live in today. I want to be a positive influence for all women, Moms and young females."
FITNESS REGIMEN
Briefly describe your current workout regimen
I work out 5 to 6 days a week. I do cardio for 45 minutes. Before a shoot I up my cardio to an hour.
What is the name and location of the gym that you currently work out at?
Home Gym
Hobbies
What are your hobbies?
Running
Soccder
Weightlifting
Yoga
Exercise (Aerobics, Weights)
Sports
What sports do you play?
Bodybuilding / Bikini division
Tell us about the sports you have played
Volleyball / Cheerleader
About MonEthos
Mon Ethos seeks to provide a customized level of service to its clients. By combining executive level talent management with the necessary business development tools Mon Ethos generates greater revenue and rewards to and interest in the athletes, artists and executives who take advantage of Mon Ethos wide range of services.
Through a hyper-intensive approach, we take talented individuals in their most raw form, fortify and develop their brand with a wide variety of resources and propel them into the next and highest level of their specific field. Whether it is the development of a website or a press release, Mon Ethos takes the utmost care in crafting a work product that is far superior than all others in our industry.
Our clients range from business executives reaching for the next level of management, or professional athletes looking to expand their revenue into areas other than their specific sport; all come to Mon Ethos for our professionalism and dedication to them and to our work.
Contact Mont Ethos: 800-689-1275
Athlete Application
The following questions are designed to give us a better understanding of who you are and what you are looking to get out of your relationship with Mon Ethos.