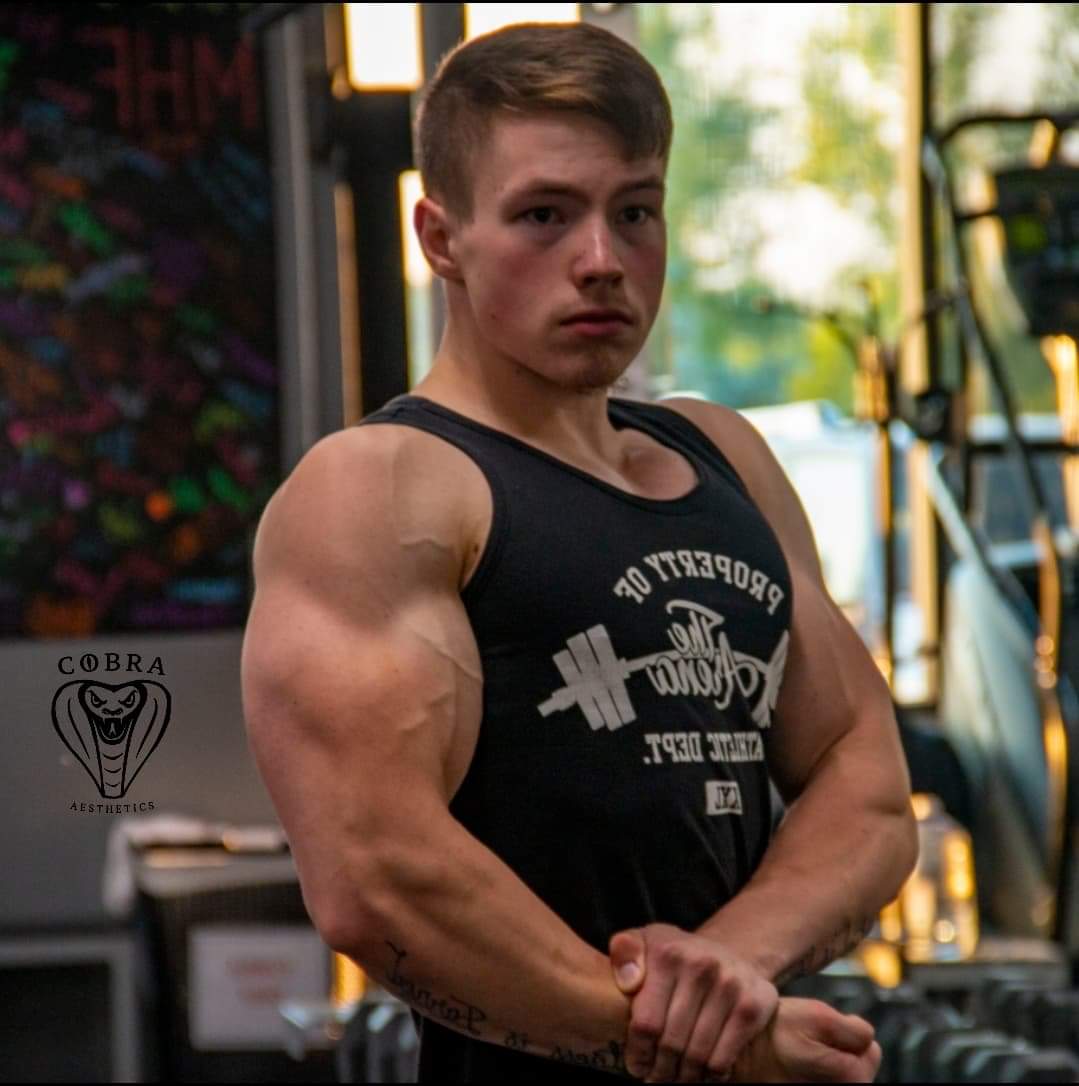 Age:

23

Height:

5'10

Weight:

220 lbs

Hair Color:

Brown

Body Type:

Bodybuilder / Athletic

Pircing:

No

Tattoos:

Yes

Dress Shirt Size:

34-35

Shoes Size:

11.5
Jacob was born and raised in Wisconsin. "As a child I was lucky to have been brought up with good intentions, good manners and always told to do the right thing. I learned from a very young age that I had to alter the path that had been laid before me. As a 23 year old I have married the love of my life, travelled internationally, had the chance to serve my country stateside (even though my time was cut short due to medical reasons- Tonic Clonic Seizures), and turn a passion into a business." says @cobra_aesthetics_posing
According to Jacob, growing up he was always a creative individual who loved drawing and playing guitar. "Partially I think this is what led me to become a posing coach as I am able flow to the music with such ease because of my musical background and to me posing is the Art of Movement which correlates back to my days as a young artist. I also have an acute eye when it comes to critiquing poses and creating routines. It truly is my passion and is what led me to start my business Cobra Aesthetics."
"My first natural bodybuilding competition was in 2016, I was 19 and only did one show and I was hooked even though. Since then I stepped on stage again in 2018 where I competed in three shows and was able to walk away with an Open Short win in my second show. I had lost in the Overall however, but was also able to walk away with a Best Poser Award. The future's looking bright as I'm looking at possibly stepping on stage in 2022-2023. This is so I can finish my last semester in college and complete a list of major life goals I've been working at for the last few years. 
A few of those broad goals include moving out to the east coast with my wife, taking my business full-time and opening my own posing studio! Currently I work with Bodybuilding, Classic Physique, and Men's Physique Divisions; both in the Natural and Enhanced side of our sport. What makes my job worth it is watching the progress of each of my clients and hearing some of them say that they used to hate posing, but now look forward to each of our sessions!" 
Competitions
What was your last bodybuilding competition and what did you place?
Oct. 20th, 2018- NANBF Clash Of The Titans: 4th open bodybuilding, 3rd classic physique
What prior competitions have you been to and what did you place in those?
Oct. 13th, 2018- INBA Minnesota Mayhem: 1st in open short Bodybuilding, 2nd in overall, 3rd in classic Physique (Best posing award)
What competitions have you won?
None yet but the future is looking hopeful
When/where is your next competition?
Unknown, looking around 2022 potentially for my next time on stage as I have big things happening in my life
FITNESS REGIMEN
Briefly describe your current workout regimen
Currently working out 4 days a week, doing a upper/ Lower split. Cardio involves making sure I get my daily steps in which range and I'm currently not in prep. Have my sights set on potentially 2022-2023.
What is the name and location of the gym that you currently work out at?
Riverfront Athletic Club
What supplement brands do you currently use?
PMD // NDS // Siren labs
What are your Top 3 songs to work out to?
Logic – Wu Tang Forever ft. Wu Tang Clan
Of Mice and Men – Bones Exposed
Jaden – Icon
Hobbies
What are your hobbies?
Arts
Beatboxing
Guitar
Traveling
Renaissance Faire
Sports
What sports do you play?
Bodybuilding
Tell us about the sports you have played
Track, wrestling, football, and club jiu jitsu in college
About MonEthos
Mon Ethos seeks to provide a customized level of service to its clients. By combining executive level talent management with the necessary business development tools Mon Ethos generates greater revenue and rewards to and interest in the athletes, artists and executives who take advantage of Mon Ethos wide range of services.
Through a hyper-intensive approach, we take talented individuals in their most raw form, fortify and develop their brand with a wide variety of resources and propel them into the next and highest level of their specific field. Whether it is the development of a website or a press release, Mon Ethos takes the utmost care in crafting a work product that is far superior than all others in our industry.
Our clients range from business executives reaching for the next level of management, or professional athletes looking to expand their revenue into areas other than their specific sport; all come to Mon Ethos for our professionalism and dedication to them and to our work.
Contact Mont Ethos: 800-689-1275
Athlete Application
The following questions are designed to give us a better understanding of who you are and what you are looking to get out of your relationship with Mon Ethos.