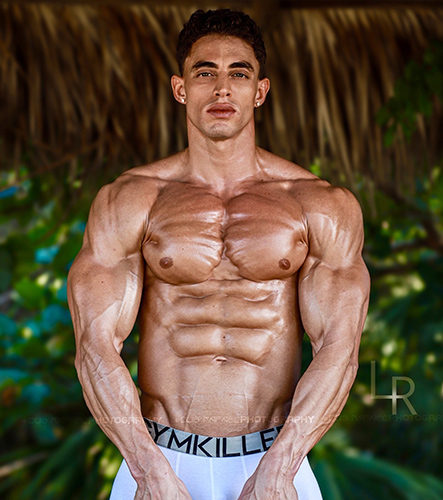 Age:

31

Height:

6'3

Weight:

240 lbs

Hair Color:

Dirty Blond

Body Type:

Athletic

Pircing:

Yes

Tattoos:

No

Dress Shirt Size:

XL

Shoes Size:

11
Hayden Monteleone is a NASM certified personal trainer. Dominican & Italian. Born & raised in Queens, NY. A published model / actor that has worked on various projects "Ragnaron" Teyana Taylor's "YTP" music video, Blac Chyna. Magazines such as bleu magazine, Adon magazine, Closet magazine & much more, also working with well known photographers across the country.
"I was always athletically inclined my whole life, and always was infatuated with male, muscularity/aesthetic  as a boy & always wanted to look like a superhero & natural representations such as, Bruce Lee… I began training after pursuing basketball, & decided to do something instrumental with my life, compared to what I experienced growing up, & I no longer wanted to be known as tall & skinny! My family (wife & daughter) are my primary driving force. Demanding & Proclaiming nothing but the best, because it is what we deserve. My goals are to achieve freedom, peace & tranquility in all facets of my and family's lives by creating our own lane/sufficiency." says @hayden_monteleone
Competitions
What was your last bodybuilding competition and what did you place?
LA Fit Expo. 1st
What prior competitions have you been to and what did you place in those?
Eastern Championships 5th
What competitions have you won?
LA Fit Expo, 1st
FITNESS REGIMEN
Briefly describe your current workout regimen
I workout seven days a week. I perform cardio everyday.
What is the name and location of the gym that you currently work out at?
Powerhouse
What supplement brands do you currently use?
All Star, Optimum Nutrition
What are your Top 3 songs to work out to?
"Hi Power" "Money Tree's II" & " Revenge of the Dreamers"
Hobbies
What are your hobbies?
Animals / Pets / Dogs
Acting / Dancing
Sports / Basketball / Bodybuilding / Exercise (Aerobics, Weights) / Running / Swimming / Walking / Weightlifting
Music / Magic / Illusion
Modeling / Cosplay
Sports
What sports do you play?
Bodybuilding / Basketball
Tell us about the sports you have played
I've played, Baseball & Basketball.
About MonEthos
Mon Ethos seeks to provide a customized level of service to its clients. By combining executive level talent management with the necessary business development tools Mon Ethos generates greater revenue and rewards to and interest in the athletes, artists and executives who take advantage of Mon Ethos wide range of services.
Through a hyper-intensive approach, we take talented individuals in their most raw form, fortify and develop their brand with a wide variety of resources and propel them into the next and highest level of their specific field. Whether it is the development of a website or a press release, Mon Ethos takes the utmost care in crafting a work product that is far superior than all others in our industry.
Our clients range from business executives reaching for the next level of management, or professional athletes looking to expand their revenue into areas other than their specific sport; all come to Mon Ethos for our professionalism and dedication to them and to our work.
Contact Mont Ethos: 800-689-1275
Athlete Application
The following questions are designed to give us a better understanding of who you are and what you are looking to get out of your relationship with Mon Ethos.