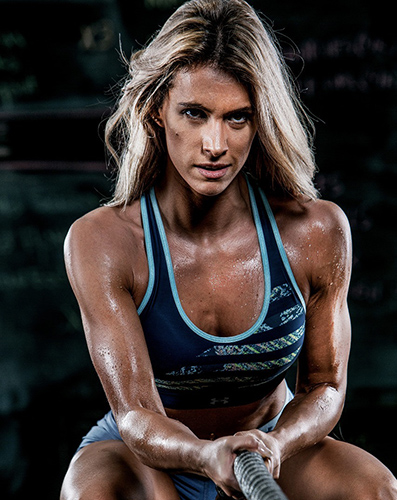 Age:

34

Height:

5'5

Weight:

121 lbs

Hair Color:

Blonde

Body Type:

Bikini / Fitness

Pircing:

Yes

Tattoos:

Yes

Dress Shirt Size:

S

Shoes Size:

8
Gabriela Viscardi started in sports since she was 10 years old. Practiced swimming for 4 years including competitions in Porto Alegre, Brazil. She also played soccer, basketball, and handball. Since she was little she also started in modeling.
"At 18, I started training in the gym, I trained every day, participated in my first beauty competitions, 'Garota Inter surf' where I took first place, 'Miss Rio Grande do Sul' where I represented Capão da Canoa being "Miss Capão da Canoa". I kept working as a model and never stopped training, I went to live in Italy for a year working as a model". 
After returning to Brazil, she was called to work in Guatemala as a model, where she currently resides. "It was there where I started training harder and harder and began to radically change my diet. I began to have the support of a nutritionist who, along with a nutritionist friend, helped me a lot" says @viscardigabriela_
Gabriela studied diplomacy and international relations at Galileo University while continuing to train and work.
"My desire to enter the world of bodybuilding increased more and more. A friend of mine in Brazil (my future coach) always supported me and insisted on me becoming a Bikini competitor, although I was not sure. My first competition was in 2015 before the Guatemalan federation, in 'Sr. Old city ', where I got first place. Then Musclemania Mexico, where I placed second. In 2016, I competed in 'Mr. Raza Guatemala ', placing first and on my last show, I also placed first.
To continue competing for the Guatemalan federation, I would have to be part of the federation, which was not possible, among other things, because I was Brazilian and someone argued that it was not fair for my "genetics" to train together with the others. This was very sad but I did not give up, bodybuilding had become not only a dream, but it was also a personal challenge. I had some health problems for about 2 years, while still concentrating on my training and my diets, I lost a lot of weight, I thought I would never return to compete.
In 2018, I returned little by little to train and take care of myself, in 2019 I returned to compete in Mr. Olympia Amador, placing second; competed in 'Professional', where I placed third. In 2020, at 'The International Muscle Contest Amador' and 'Professional' placing fourth."
Competitions
What was your last bodybuilding competition and what did you place?
Muscle contest international / 4th place
What prior competitions have you been to and what did you place in those?
Olympia brasil / 3 as a pro / 2 as an amature
What competitions have you won?
3 Competencias Federadas Guatemala
Sr. Pacifico
When/where is your next competition?
Sardinha classic
FITNESS REGIMEN
Briefly describe your current workout regimen
6 days a week Cardio twice a day. Almost always in diet
What is the name and location of the gym that you currently work out at?
Fitness One – Guatemala
What supplement brands do you currently use?
Ultimate nutrition Muscle pharm // Isopure // 1up // Whey protein // BCCA // Creatine
What are your Top 3 songs to work out to?
Baila morena – Zuchero
Con altura – J. Balvin feat Rosalia
Dancing with myself – Billy Idol
Hobbies
What are your hobbies?
Acting
Compose music
Foreign languages
Writing / Writing songs
Arts
Sports
What sports do you play?
Bodybuilding / Handball / Basketball
Tell us about the sports you have played
Soccer as a forward / HandBall – goal keeper and defense / Basketball
About MonEthos
Mon Ethos seeks to provide a customized level of service to its clients. By combining executive level talent management with the necessary business development tools Mon Ethos generates greater revenue and rewards to and interest in the athletes, artists and executives who take advantage of Mon Ethos wide range of services.
Through a hyper-intensive approach, we take talented individuals in their most raw form, fortify and develop their brand with a wide variety of resources and propel them into the next and highest level of their specific field. Whether it is the development of a website or a press release, Mon Ethos takes the utmost care in crafting a work product that is far superior than all others in our industry.
Our clients range from business executives reaching for the next level of management, or professional athletes looking to expand their revenue into areas other than their specific sport; all come to Mon Ethos for our professionalism and dedication to them and to our work.
Contact Mont Ethos: 800-689-1275
Athlete Application
The following questions are designed to give us a better understanding of who you are and what you are looking to get out of your relationship with Mon Ethos.