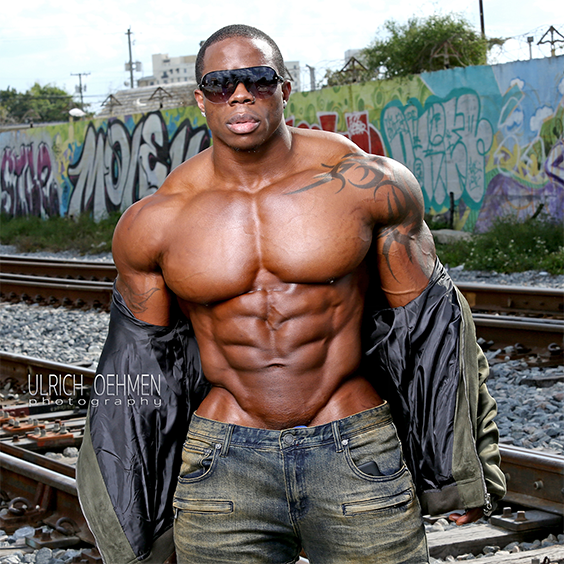 Age:

29

Height:

5'7

Weight:

245 lbs

Hair Color:

Black

Body Type:

Bodybuilder

Pircing:

Yes

Tattoos:

Yes

Dress Shirt Size:

XXL

Shoes Size:

9
Dwayne is a 29 year old Jamaican male born to Doreen Angus a single mom. Accompanied by a younger brother and being raised by a single mom he had the advantage of learning independence at an early stage of his childhood. "I learnt basic domestic duties, how to be conservative and self – sufficient. Growing up my favorite pass time would be watching tv or playing video games, I quickly identified with a few of the main characters and created my own perspective as to how a male was suppose to look and be seen by his peers due to the absence of a male figure in my life. The main characters in these movies/cartoons and videos games were always guys that were well built and handsome, these characters were seen as the prince charmings, saving the day, being loved and respected by the masses, representing strength and leadership true Alphas. Being 10 years old at the time I started shaping in my head who I wanted to be what I wanted to look like and how I was to achieve it" says Dwayne.
Dwayne started training on his own. As he got into teenager years and early twenties he started getting more serious with his pursue to how a ideal man is suppose to look. "From my perspective a man is not suppose to be skinny or fat, he should have a upright posture with broad shoulders, confident and fearless. As I got more serious in my training I noticed that not only that my body was changing and developing but I was also becoming more confident and having a much higher self-esteem. In 2012 I was encouraged to do what would be my first bodybuilding competition, I entered with the mind set to win because I thought I was that good. I placed 4th and I was disappointed and refused to accept it, I never saw the winners having nothing I didn't possess myself".
In 2013 Dwayne stepped on staged again, new and improved he walked away with a 2nd place in the junior category and 4th place in the middle weight category, that was the beginning of his winning streak and journey to the top. Being Jamaican's #1 and most popular bodybuilder. "My bodybuilding journey created other opportunities for me and I made transitions to being featured in adverts and commercial, music videos, magazines, articles, and othe special events. Soon after winning the shows became less rewarding to me, the victory was short lived and I wanted more. It was a little frustrating to the point where people would ask why bother compete, you won it all already. In 2018 I visited Miami on vacation and met with Loleta Riley who immediate saw my potential and engaged me in conversation to know some background info on myself, after which she wrote down the names and dates of three shows she had intended for me to do after which I should be an IFBB Pro. Exactly how she planned it I did those exact shows and became IFBB Pro Bodybuilding on September 2018 at the Mr. Olympia Amateurs. No resting no delayed I set out to do my rookie season no later than March 2019. I new this was a different journey and much more would be required, however I was ready and driven. I had what I would describe a fairly decent rookie season, pro debut I placed 6th and ascended to my best placing of 3rd from total of 4 shows. I'm currently in my offseason and training relentlessly to improved on the necessary areas while tying to get settle into Florida which is now my new residence".
Competitions
What was your last bodybuilding competition and what did you place?
My last competition was Tampa Pro where I played 16th in the bodybuilding 212
What prior competitions have you been to and what did you place in those?
2018 – Olympia Amateurs, I won my Pro card
2019 – Pro debut Indi Pro – 6th place
New York Pro – 10th place
Puerto Rico Pro – 3rd place
Tampa Pro – 16th place
What competitions have you won?
NPC Miami Muscle 2018
1st Novice Bodybuilding
1st Novice Classic Bodybuilding
1st Bodybuilding Middle Meight
1st Classic Bodybuilding Open
Overall Bodybuilding Champion
Overall Classic Bodybuilding Champion
Olympia Amateurs 2018
1st Bodybuilding Heavy Weight
2nd runner up Overall
Won pro card
When/where is your next competition?
Next competition is August 1st Tampa Pro 2020
FITNESS REGIMEN
Briefly describe your current workout regimen
Currently I'm preparing for my second season since being and IFBB Pro. I train 6 days rest the 7th day, I do cardio post workout for a duration of 30min. My diet comprises of 6 meals per day, 2 including carbs (1 cup rice) and the other just protein and veggies being broccoli and asparagus, protein sources are beef chicken and fish each at 9oz. Diet it subjected to change at any time depending on my progress the goal and how close we are to show date.
What is the name and location of the gym that you currently work out at?
BBL Fitness – 20170 Pines Blvd, Pembroke Pines, FL 33029
What supplement brands do you currently use?
MuscleTech // BSN // Betancourt
What are your Top 3 songs to work out to?
Any track from Kevin Gates (rapper)
Hobbies
What are your hobbies?
Collecting
Games
Go Kart racing
Gunsmithing
Self Defense
Sports
What sports do you play?
Bodybuilding
Tell us about the sports you have played
In high school I was a part of the cadet and I played soccer in my junior and senior years. I was defender playing from the wing back position. Represented my school and form classes
About MonEthos
Mon Ethos seeks to provide a customized level of service to its clients. By combining executive level talent management with the necessary business development tools Mon Ethos generates greater revenue and rewards to and interest in the athletes, artists and executives who take advantage of Mon Ethos wide range of services.
Through a hyper-intensive approach, we take talented individuals in their most raw form, fortify and develop their brand with a wide variety of resources and propel them into the next and highest level of their specific field. Whether it is the development of a website or a press release, Mon Ethos takes the utmost care in crafting a work product that is far superior than all others in our industry.
Our clients range from business executives reaching for the next level of management, or professional athletes looking to expand their revenue into areas other than their specific sport; all come to Mon Ethos for our professionalism and dedication to them and to our work.
Contact Mont Ethos: 800-689-1275
Athlete Application
The following questions are designed to give us a better understanding of who you are and what you are looking to get out of your relationship with Mon Ethos.