Dustin Pederson is a 4 time overall Classic Physique winner and placed in the Top 5 in the 2018 USA's. He coaches, trains, and teaches in the Portland, OR area.
| | |
| --- | --- |
| Age | 31 |
| Height | 6'3 |
| Weight | 250 lbs |
| Hair Color | Dark Brown |
| Body Type | Athletic/Bodybuilder/Classic Physique |
| Location | Portland, OR |
| Piercings | No |
| Tattoos | Yes |
| Neck Size | |
| Dress Shirt Size | |
| Pant Size | |
| Shoe Size | 12 |
Sports, Hobbies, & Fitness
What was your last bodybuilding competition and what did you place?
Portland Classic in August of this year (2018.) I won the Overall in Classic Physique
What prior competitions have you been to and what did you place in those?
2013 Upper Midwest- Men's Physique- First place Overall
2013 Gopher State Classic- MP- 3rd Place
2013 Jr. Nationals- MP- DNP
2014 MN State Championship- MP- 2nd Place
2014 Jr. Nationals- MP- 10th Place (of 41)
2014 Muscle and Fitness Model search at the Olympia- 3rd Place
2015 Nationals- MP- 13th Place
2017 Emerald Cup- MP 2nd Place
2017 Emerald Cup- Classic Physique 3rd Place
2017 Battle at the Beach- MP 1st Place, 3rd Overall
2017 Battle at the Beach- CP 1st Place Overall
2017 Cascadian Classic- MP- 1st Place, 2nd Overall
2017 Cascadian Classic- CP- 1st Place Overall
2018 USA's- CP- 5th Place
2018 Portland Classic- 1st Place Overall
What competitions have you won?
2013 Upper Midwest (Overall MP)
2017 Battle at the Beach (1st MP, Overall CP)
2017 Cascadian Classic (1st MP, Overall CP)
2018 Portland Classic (Overall CP)
When/where is your next competition?
Either Tanji Johnson Classic at the end of June 2019 to warm up for USA's or Jr. Nationals also June 2019, followed by USA's (if I don't do or go pro at Jr. Nationals)
Briefly describe your current workout regimen
Progressive overload. Focusing on hypertrophy through proper execution, sets, reps, and intensity. Currently on a 10 day split- 4 on, 1 off, 4 on, 1 off. Moving into a 7 day split with rest as needed. Upper body focused (arms and back) to match my legs.
Currently, no cardio besides 3 or so 10 minute walks after meals to help with digestion. Currently not on prep, but starting in roughly 12-14 weeks.
What is the name and location of the gym that you currently work out at?
O'Malley's in Troutdale Oregon
What supplement brands do you currently use?
Redcon1
What are your Top 3 songs to workout to?
Old school, Minnesota hip hop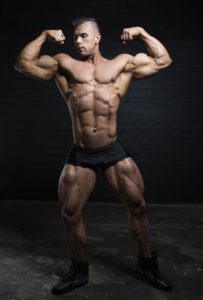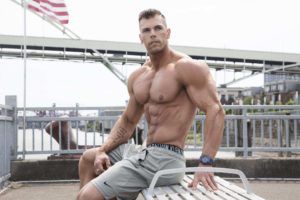 What are your hobbies?
Baseball
Body Building
Camping
Church/church activities
Crochet
Crocheting
Darts
Exercise (aerobics, weights)
Fast cars
Games
Juggling
Learning To Pilot A Plane
Motorcycles
Owning An Antique Car
Playing team sports
Reading
Renting movies
Scuba Diving
Skateboarding
Snowboarding
Writing
What sports do you play?
Bodybuilding
Trapshooting
Snowboarding
Softball
Volleyball
Skateboarding
What sports do you watch?
Bodybuilding
Golf
Snowboarding
Baseball
Football
Ice hockey
Motorcycle racing
Tell us about the sports you have played.
In High School I played baseball and snowboarded. No college athletics besides intramural sports
Tell us about your favorite teams.
I am from MN so all of my favorite sports teams are from there as well, MN Twins, Vikings, Wild. Not really a basketball or soccer fan.