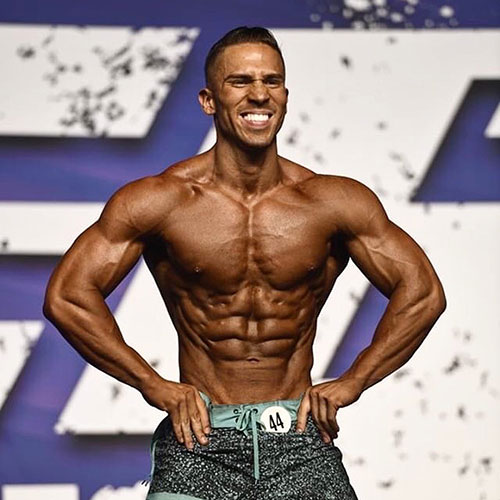 Age: 26
Height: 5'9
Weight: 

190 lbs

Hair Color: 

Brown

Body Type: 

Athletic/Built

Piercing: 

Yes

Tattoos: 

Yes

Dress Shirt Size: 

M

Shoes Size: 

10.5
Daniel is currently 26. He was born in Colombia and moved to Orlando, Florida in 2007. "I have always been an athlete. I played soccer in high school then started lifting weights at age 17. I have been competing for a couple of years but decided to go pro and make a career out of fitness in 2019. I'm determined to become one of the best mens physique IFBB PRO's" says @danielmontoyatness
Daniel is also a fitness coach and model. He's currently working on getting his kinesiology bachelor at University of Central Florida.
Daniel is looking to earn his pro card at the JR USA 2020.
Competitions
What was your last bodybuilding competition and what did you place?
Olympia amateur 2019 – 3rd place
What prior competitions have you been to and what did you place in those?
Europa games Orlando – 1st place and overall
What competitions have you won?
Europa games 2019
When/where is your next competition?
Jr USA Charleston SC on August 27
FITNESS REGIMEN
Briefly describe your current workout regimen
I am currently on prep. 45 mins of cardio 6 times a week. Strength training 5-6 times a week
What is the name and location of the gym that you currently work out at?
Fitness CF/ rival athletics – Orlando
What supplement brands do you currently use?
Any
Hobbies
What are your hobbies?
Acting
Entertaining
Music
Weightlifting
Exercise (Aerobics, Weights)
Sports
What sports do you play?
Bodybuilding / Football (soccer)
Tell us about the sports you use to watch
Bodybuilding / Football (soccer)
About MonEthos
Mon Ethos seeks to provide a customized level of service to its clients. By combining executive level talent management with the necessary business development tools Mon Ethos generates greater revenue and rewards to and interest in the athletes, artists and executives who take advantage of Mon Ethos wide range of services.
Through a hyper-intensive approach, we take talented individuals in their most raw form, fortify and develop their brand with a wide variety of resources and propel them into the next and highest level of their specific field. Whether it is the development of a website or a press release, Mon Ethos takes the utmost care in crafting a work product that is far superior than all others in our industry.
Our clients range from business executives reaching for the next level of management, or professional athletes looking to expand their revenue into areas other than their specific sport; all come to Mon Ethos for our professionalism and dedication to them and to our work.
Contact Mont Ethos: 800-689-1275
Athlete Application
The following questions are designed to give us a better understanding of who you are and what you are looking to get out of your relationship with Mon Ethos.