Daniel Bower is a newcomer on the professional bodybuilding scene, but is already making major waves. At 20 years old, he has competed in a number of major competitions and is set to compete in many more. This is definitely a man to keep an eye out for.
| | |
| --- | --- |
| Age | 20 |
| Height | 5'11 |
| Weight | 185 lbs |
| Hair Color | Dark Brown |
| Body Type | Athletic |
| Location | |
| Piercings | No |
| Tattoos | Yes (right side of chest and left quad) |
| Neck Size | |
| Dress Shirt Size | Medium |
| Pant Size | 32W 30L |
| Shoe Size | 10.5 |
Discover What You're Made Of
Why settle for anything but the best when it comes to you body.
For more information call:  (855) 451-5855
Sports, Hobbies, & Fitness
What was your last bodybuilding competition and what did you place?
My last bodybuilding competition was the Titans Grand Prix 2018 by Muscle Contest. And I placed 6th on the scorecard, did not take top 5.
What prior competitions have you been to and what did you place in those?
I also competed in the LA Grand Prix 2018 by Muscle Contest and I placed 4th.
What competitions have you won?
None YET 😉
When/where is your next competition?
My next competition is on February 9th 2019, in Las Vegas Nevada. It is the Legends Classic 2019 by Muscle Contest.
Briefly describe your current workout regimen
I workout 7 days a week, as of right now I do 5 days a week of cardio but I will be getting back on prep in a few more days which will bump my cardio back to 7 days a week as well.
What is the name and location of the gym that you currently work out at?
The Wilburn Gym in TwentyNine Palms, California
What supplement brands do you currently use?
Evogen Nutrition
What are your Top 3 songs to workout to?
Dear Agony by Breaking Benjamin
G.O.A.T by Eric Bellinger
Senses (William Black remix) by Prismo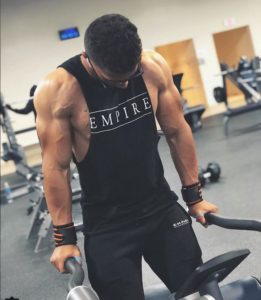 What are your hobbies?
Baseball
Basketball
Body Building
Exercise (aerobics, weights)
Fast cars
Football
Games
Models
Playing music
Playing team sports
Relaxing
Sky Diving
Spending time with family/kids
Traveling
Video Games
Watching sporting events
Weightlifting
What sports do you play?
Bodybuilding
Weightlifting
Baseball
Basketball
Football
What sports do you watch?
Bodybuilding
Baseball
Basketball
Football
Tell us about the sports you have played.
Played baseball my whole life all the way through highschool. Played basketball and football for the Marine Corps for my unit.
Tell us about your favorite teams.
Favorite baseball team is Toronto Blue Jays.
Favorite basketball team is Golden State Warriors.
Favorite football team is New York Giants.