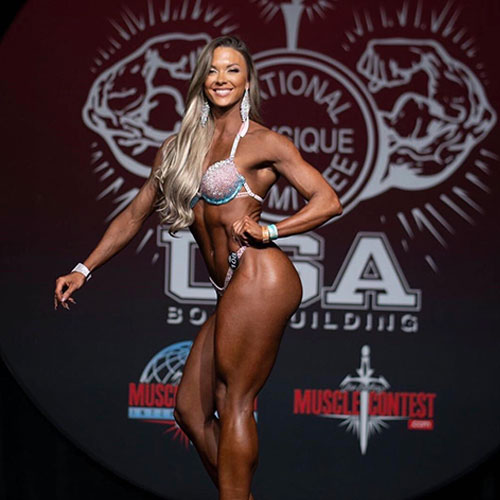 Age:

33

Height:

5'7 1/2

Weight:

164 lbs

Hair Color:

Blonde

Body Type:

Athletic / Curvy

Piercing:

Yes

Tattoos:

No

Dress Shirt Size:

M

Shoes Size:

9
Crystal is the youngest of her family and did not have the easiest childhood. "Mother was shot and killed by her husband and I was forced to bounce around from family member to family member. Never had too much of a rooted foundation. I was kicked out at 17 because I was rebellious in my later years of high school and have been on my own ever since. I've always worked and provided for myself, I married at 20 and divorced at 24, where I then moved to Orange County, California to start a new life. I began to work In the nightclub scene as a gogo dancer, then promoting in LA and Vegas and then getting into bartending", says @summahhaze.
After a few years in the party scene, Crystal hit a rock bottom feeling completely lost and wanting something better for herself. "I started going to the Gym with my cousin were I began to see the results of my work and started to love the gym life. I later discovered the wellness division and decided I wanted to compete in that division but the only place I knew that held the competitions was in Brazil. I found a coach online and I trained online and competed in Brazil in July 2016 where I took second and third place as the first and only American to compete in the wellness division. Ever since I won I made it my goal to become a pro in the meantime I started personal training clients and eventually worked as a fitness model".
Crystal became a sponsored athlete for Dragon Pharma and competed in the first NPC wellness division competition in the United States in January where she took first place in her category. "My goal is still to get my pro card and right now I am wanting to start my YouTube channel where people can follow my routine my story and hopefully I can branch out with more opportunities that way. I want to make my grandmother and mother proud and be able to take care of my sisters if I need to".
"I'm very proud to have the title as the first American wellness competitor and on top of that being the first American wellness competitor champ in my category.  My story is not very common I don't come from a sports background I didn't have a healthy family upbringing I come from a broken family domestic violence but I'm doing better than most and that makes me proud and I would like to use my platform to help other people get to where they want to go coming from similar backgrounds". 
Competitions
What was your last bodybuilding competition and what did you place?
Muscle contest LA FIT EXPO – Wellness division 1st place in all three categories
What prior competitions have you been to and what did you place in those?
2016 Brasiliense in Brasil – 2nd & 3rd place
What competitions have you won?
The LA FIT EXPO (wellness)
When/where is your next competition?
Still to be determined
FITNESS REGIMEN
Briefly describe your current workout regimen
Mon-sat training Mon-sat cardio after training Off season prep
What is the name and location of the gym that you currently work out at?
24 hour fitness brea/NXTLVL la Habra
What supplement brands do you currently use?
Dragon Pharma
What are your Top 3 songs to work out to?
Suave remix- el alpha
Safaera- bad bunny
Anything by Victor Lou
Hobbies
What are your hobbies?
Cooking
Dancing
Music
Photography
Traveling
Sports
What sports do you play?
Bodybuilding / Football / Softball
Tell us about the sports you have played
Softball in HS
About MonEthos
Mon Ethos seeks to provide a customized level of service to its clients. By combining executive level talent management with the necessary business development tools Mon Ethos generates greater revenue and rewards to and interest in the athletes, artists and executives who take advantage of Mon Ethos wide range of services.
Through a hyper-intensive approach, we take talented individuals in their most raw form, fortify and develop their brand with a wide variety of resources and propel them into the next and highest level of their specific field. Whether it is the development of a website or a press release, Mon Ethos takes the utmost care in crafting a work product that is far superior than all others in our industry.
Our clients range from business executives reaching for the next level of management, or professional athletes looking to expand their revenue into areas other than their specific sport; all come to Mon Ethos for our professionalism and dedication to them and to our work.
Contact Mont Ethos: 800-689-1275
Athlete Application
The following questions are designed to give us a better understanding of who you are and what you are looking to get out of your relationship with Mon Ethos.