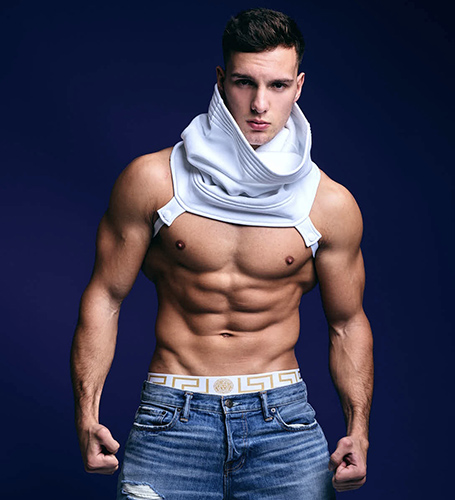 Age:

22

Height:

6'0

Weight:

210 lbs

Hair Color:

Brown

Body Type:

Mesomorph

Pircing:

No

Tattoos:

No

Dress Shirt Size:

M

Shoes Size:

13 1/2 or 14
Started from being an Oklahoman attending college and living a simple life, to becoming a fitness/ fashion model with my identical twin brother and traveling the world. My hobbies consist of being out in the wilderness, exercising, and pretty much being an all around active & positive person!
My passion is to become an influential individual and to make a difference in this world. Some major brands I've been fortunate to work with have been; Mr. Turk, MVMT, Jed North & many others as well as walked runways in Miami Swim Week, NYFW, and LAFW with designers Michael Costello, Mr. Triple xxx, Stello, Willfredo Gerardo, & Argyle Grant.
Competitions / modeling / sports
Have you done a bodybuilding competition and what did you place?
I've never competed
What types of modeling do you do?
Editorial fashion, catalogs, runway, print, commercial, promotional, and fitness
What sports do you watch?
Bodybuilding, Wrestling, Basketball and Football
Tell us about your favorite teams
OU football & OSU wrestling
FITNESS REGIMEN
Briefly describe your current workout regimen
Usually 6, but if I'm felling up to it I'll do 7 days a week! 2 to 3 days a week, but soon about to bump it up to 4 days a week! Not necessarily but I do count my macros and what not to stay on a well balanced diet!
What is the name and location of the gym that you currently work out at?
Golds gym Yukon, Oklahoma 73099
What supplement brands do you currently use?
I get my supplements from Supplement world and CreateU! I currently take greens, whey isolate protein, BCAAs, noxypump/ nitricoccide booster, HCL Creatine, and multiple preworkouts.
What are your Top 3 songs to work out to?
I don't necessarily have just 3 type of songs but I prefer hip hop/ rap and pop music.
Hobbies
What are your hobbies?
Animals / Pets / Dogs
Acting
Cooking
Games / Videogames
Traveling
What sports do you play?
Bodybuilding, Running, Wrestling and Basketball
Tell us about the sports you have pleayed
Wrestled & played football!
About MonEthos
Mon Ethos seeks to provide a customized level of service to its clients. By combining executive level talent management with the necessary business development tools Mon Ethos generates greater revenue and rewards to and interest in the athletes, artists and executives who take advantage of Mon Ethos wide range of services.
Through a hyper-intensive approach, we take talented individuals in their most raw form, fortify and develop their brand with a wide variety of resources and propel them into the next and highest level of their specific field. Whether it is the development of a website or a press release, Mon Ethos takes the utmost care in crafting a work product that is far superior than all others in our industry.
Our clients range from business executives reaching for the next level of management, or professional athletes looking to expand their revenue into areas other than their specific sport; all come to Mon Ethos for our professionalism and dedication to them and to our work.
Contact Mont Ethos: 800-689-1275
Athlete Application
The following questions are designed to give us a better understanding of who you are and what you are looking to get out of your relationship with Mon Ethos.