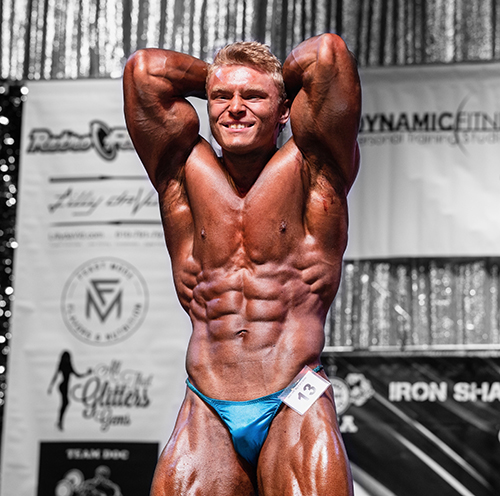 Age:

19

Height:

5'8

Weight:

215 lbs

Hair Color:

Blonde

Body Type:

Bodybuilder

Pircing:

No

Tattoos:

No

Dress Shirt Size:

L/XL

Shoes Size:

10
Colten Bundt is a 19 year old bodybuilder. "I got into bodybuilding at the age of 13 watching my dad lift/compete from a young age over the years. Day 1 in the gym I fell in love with it. I did my first show at 16 years old (NPC PA State Championship/Ultimate Physique) where I won teen bodybuilding, junior bodybuilding, took 2nd in mens open middleweight as well as winning my mens open classic physique class. From there I did my second show (NPC Big Cat Classic) where I won teen and junior bodybuilding, novice heavyweight/overall, mens open light heavyweight, classic physique class B as well as classic overall and also best of show! I was 18 at this show. My goals as of now are to take 2020 to improve for the national stage and build my personal brand in the meantime. My main goal is to get my pro card before the age of 23" says @cbunda_
Competitions
What was your last bodybuilding competition and what did you place?
My last competition was the NPC Lehigh valley classic. Wasn't my best, ended up taking 5th in a stacked open light heavy weight class, won the teenage and junior.
What prior competitions have you been to and what did you place in those?
My show prior to that was the NPC Big Cat Classic where I won Best of show, won open bodybuilding light heavy weight, won novice bodybuilding heavyweight and overall, won teenage and junior bodybuilding and won classic physique overall. I was still only 18 years old for this show.
What competitions have you won?
NPC Big Cat Classic
When/where is your next competition?
Still to be determined
FITNESS REGIMEN
Briefly describe your current workout regimen
Currently in my offseason training 5-6 days a week. Cardio is at 15-20 minutes low intensity everyday. Taking 2020 off to improve and planning on a national show in 2021.
What is the name and location of the gym that you currently work out at?
AFC Fitness Feasterville, PA
What supplement brands do you currently use?
Nutrabio / Animal Universal / BSN
What are your Top 3 songs to work out to?
Anything by Lil Baby
Hobbies
What are your hobbies?
Animals / Pets / Dogs
Basketball
Bodybuilding
Football
Exercise (Aerobics, Weights)
Sports
What sports do you play?
Bodybuilding
Tell us about the sports you have played
Played basketball my whole life up until 10th grade when I gave it up to pursue bodybuilding further.
About MonEthos
Mon Ethos seeks to provide a customized level of service to its clients. By combining executive level talent management with the necessary business development tools Mon Ethos generates greater revenue and rewards to and interest in the athletes, artists and executives who take advantage of Mon Ethos wide range of services.
Through a hyper-intensive approach, we take talented individuals in their most raw form, fortify and develop their brand with a wide variety of resources and propel them into the next and highest level of their specific field. Whether it is the development of a website or a press release, Mon Ethos takes the utmost care in crafting a work product that is far superior than all others in our industry.
Our clients range from business executives reaching for the next level of management, or professional athletes looking to expand their revenue into areas other than their specific sport; all come to Mon Ethos for our professionalism and dedication to them and to our work.
Contact Mont Ethos: 800-689-1275
Athlete Application
The following questions are designed to give us a better understanding of who you are and what you are looking to get out of your relationship with Mon Ethos.