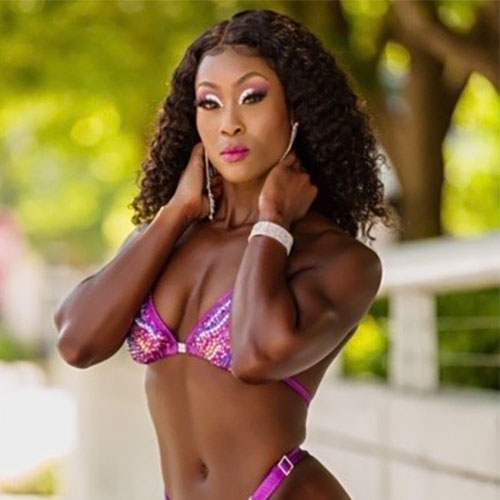 Age:

37

Height:

5'1

Weight:

125 lbs

Hair Color:

Black

Body Type:

Athletic

Pircing:

Yes

Tattoos:

Yes

Dress Shirt Size:

M

Shoes Size:

6.5
Chrisheena Williamson is 37 and has called Dallas, Texas home for the last seven years. As with other military brats she has lived in a few different places but most of her time growing up was spent in Colorado Springs, Colorado. "I am the oldest of three girls and I'm considered to be the best aunt ever according to my two nieces and nephew. Personally, my family is everything to me and they are the fuel that keeps me going." says Chrisheena.
She's an NPC Figure Competitor and a fitness lover. "Like so many others this sport has given me so much more than I ever thought it could. In 2016 I met my now Coach, Swann Graydon, who introduced me to bodybuilding.  I started competing in July of 2017, and from there my love for not only the stage but the entire process of competing and living a healthy lifestyle itself was born. I grew up playing basketball and ran track so competing has just continued my urge to learn and appreciate the unlimited range of the human body and mind".
According to Chrisheena, her current journey has allowed her to discover her own determination, strength, and tenacity as a woman. "Nothing happens overnight and you must trust your own process and journey. In looking to the future and to carve out a larger brand for myself outside of the stage it was important to me to work with companies and create partnerships that represent integrity, loyalty, and noted success. I truly believe that is what Mon Ethos stands for and I'm truly humbled and honored to be apart of their team".
Competitions
What was your last bodybuilding competition and what did you place?
Heart of Texas- October 2019Open Class A- 3rdMaster 35- 2nd
What prior competitions have you been to and what did you place in those?
2019 NPC Phil Heath- Open A – 2nd
2019 City Limit Championship- Open A- 6th / Masters Over 35 – 11th
2018 NPC Battle of Texas 2018 – Open A- 3rd / Masters 35 – 4th
2018 Heart of Texas – Open A 3rd / Masters 35 – 4th
2018 Phil Heath – Open A 5th / Masters 35 – 8th
2017 Battle of Texas – Open A – 7th
2017- NPC Texas Legends- Open A- 2nd
When/where is your next competition?
Heart of Texas – September 19th, 2020 / Masters USA's – December 9th -11th 2020
FITNESS REGIMEN
Briefly describe your current workout regimen
Currently I'm on prep so my diet is regimented. I'm currently lifting 6 days a week and cardio 3 days a week.
What is the name and location of the gym that you currently work out at?
Life Time Fitness -Dallas, Tx and Fitness Connection-Carrolton, Tx
What supplement brands do you currently use?
Rule One Project Ad
What are your Top 3 songs to work out to?
J.Cole- Motivat8 Outkast – (All songs) Nipsey Hustle – Hustle and Motivate
Hobbies
What are your hobbies?
Animals / Pets / Dogs
Basketball
Movies / Music
Football
Traveling
Sports
What sports do you play?
Bodybuilding / Basketball
Tell us about the sports you have played
Ran track and played basketball from middle school to high school.
About MonEthos
Mon Ethos seeks to provide a customized level of service to its clients. By combining executive level talent management with the necessary business development tools Mon Ethos generates greater revenue and rewards to and interest in the athletes, artists and executives who take advantage of Mon Ethos wide range of services.
Through a hyper-intensive approach, we take talented individuals in their most raw form, fortify and develop their brand with a wide variety of resources and propel them into the next and highest level of their specific field. Whether it is the development of a website or a press release, Mon Ethos takes the utmost care in crafting a work product that is far superior than all others in our industry.
Our clients range from business executives reaching for the next level of management, or professional athletes looking to expand their revenue into areas other than their specific sport; all come to Mon Ethos for our professionalism and dedication to them and to our work.
Contact Mont Ethos: 800-689-1275
Athlete Application
The following questions are designed to give us a better understanding of who you are and what you are looking to get out of your relationship with Mon Ethos.