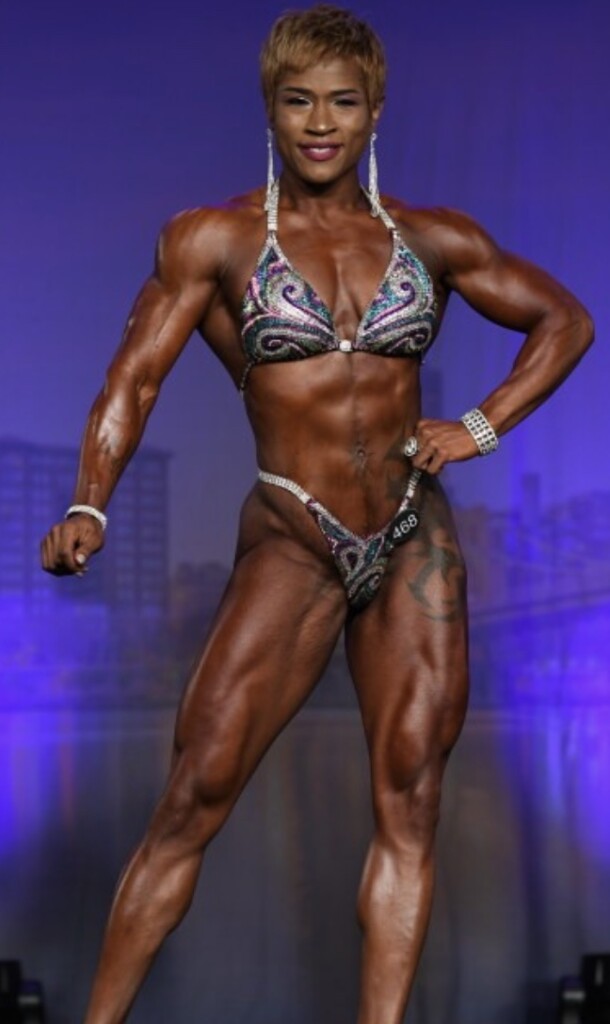 Chanda Akles
Chanda is a certified personal trainer, group fitness trainer, competition coach and figure competitor. She is originally from Little Rock, Arkansas and have an associate degree in Behavioral Science and BS in Public / Human Services (psychologies).
As a military spouse, she have lived in California and now reside in Warner Robins, Georgia with her husband and their children as well.
"I have a strong passion for helping people find reach their fitness goal and beyond, I love dancing and live music! My favorite hashtag "live out loud"!" says @scorpiondoll77
November 16, 1977
41
5′ 5.5″
145
Light brown
Mesomorph
es
Piercings: Yes
I workout 6 sometimes 7 days per week. My cardio sessions are typically 45 minutes to an hour since I am also an aerobics instructor with a full group fitness schedule. I am currently prepping for Muscle Contest's Masters USA.
Flex Powerhouse in Warner Robins, GA
BPI, Redcon, Allmax and NutraOne
Elevate by DJ Khalil
Down Bad by Dreamville
Press by Cardi B
What was your last bodybuilding competition and what did you place?
NPC North Americans where I placed 2nd in Masters 40, 5th in Masters 35 and 6th in Open
What prior competitions have you been to and what did you place in those?
Before NPC North Americans I placed 2nd in Masters over 40, 4th in Masters over 35 and 6th in Open figure
What competitions have you won?
2016 NPC Battle on the Bluff Open and Masters
2017 NPC Eastern Seaboard Open and Masters
When/where is your next competition?
Muscle Contest's NPC Masters USA on December 14, 2019 in Los Angeles, California.
Sports, Hobies, & Fitness
Belly Dancing
Body Building
Cooking
Exercise (aerobics, weights)
Football
Going to movies
Golf
Gymnastics
Hula Hooping
Listening to music
Models
Parkour
Pole Dancing
Self Defense
Shopping
Spending time with family/kids
Watching sporting events
Weightlifting
Wrestling
Zumba
Tell us about the spots you have played:
In high school I played volleyball, ran track, and was a cheerleader my freshman year then switch to the dance team my sophomore year and continued dance team through my freshman year of college. I love to dance!
Tell us about your favorite teams:
Dallas Cowboys because I wanted to be a DC Cheerleader as a kid and I love football! When I moved to California I fell in love with the Raiders so I have two favorites.
What Sports Do You Play?
Bodybuilding
Boxing
Gymnastics
Martial arts
Capoeira
Figure skating
Weightlifting
Powerlifting
Wrestling
Gymnastics
Rhythmic gymnastics
Volleyball
Skydiving
What sports do you watch?
Bodybuilding
Boxing
Gymnastics
Floor exercise
Figure skating
Powerlifting
Wrestling
Football
Gymnastics
Rhythmic gymnastics
Figure skating
Volleyball
About Mon ethos
Mon Ethos seeks to provide a customized level of service to its clients. By combining executive level talent management with the necessary business development tools Mon Ethos generates greater revenue and rewards to and interest in the athletes, artists and executives who take advantage of Mon Ethos wide range of services.
Through a hyper-intensive approach, we take talented individuals in their most raw form, fortify and develop their brand with a wide variety of resources and propel them into the next and highest level of their specific field. Whether it is the development of a website or a press release, Mon Ethos takes the utmost care in crafting a work product that is far superior than all others in our industry.
Our clients range from business executives reaching for the next level of management, or professional athletes looking to expand their revenue into areas other than their specific sport; all come to Mon Ethos for our professionalism and dedication to them and to our work.
Contact Mont Ethos: Phone: 800-689-1275
Athlete Application
The following questions are designed to give us a better understanding of who you are and what you are looking to get out of your relationship with Mon Ethos.