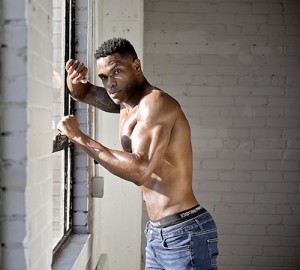 Age:

33

Height:

6'1

Weight:

196 lbs

Hair Color:

Black

Body Type:

Athletic

Piercing:

No

Tattoos:

Yes

Dress Shirt Size:

M

Shoes Size:

13
Cedric Zachary is an NPC Men's Physique competitor, model and an impressive professional. Cedric has a Bachelor's degree of Business Administration and an MBA from the University of Texas of the Permian Basin. Cedric is also a NASM Certified personal trainer at Golds Gym for 5 1/2 years: specializing in Corrective exercise, Behavior Change, and Fitness Nutrition.
"I am disciplined, funny, easy going, I take initiative, and I am charming. I am 33 from Round Rock, TX. I began my fitness journey after I graduated from college. I was never happy with how I looked and finally took action. I worked on my physique for 4 years but was still not satisfied. I had a friend invite me to a bodybuilding competition to watch her friend compete. After attending the show and seeing all the action and posing I felt motivated and knew that was what I needed to bring my physique to the next level. Furthermore, What I strive for is that I want to see how far I can push myself in the gym and achieve the physique I'm searching for. Lastly, I want to become an IFBB Pro!" says" says @cedybear_fit
Competitions
What was your last bodybuilding competition and what did you place?
Mens Physique – NPC Lee Labrada – 5th
What prior competitions have you been to and what did you place in those?
Mens Physique
2017 NPC City Limits Championships – 6th novice
2018 NPC San Antonio Classic-5th novice, 8th Open
What competitions have you won?
None at the moment
When/where is your next competition?
My next competition would have been Aug 1st in Arlington TX, however due to COVID-19 I decided not to participate in that competition. I will be pursuing a December show this year in Arlington Tx.
FITNESS REGIMEN
Briefly describe your current workout regimen
7 Days of Cardio totaling= 8 hrs 20 min – Calves and Abs
Monday: Quads and Hamstrings
Tuesday: Back and biceps
Wednesday: Chest and triceps
Thursday: Shoulders
Friday: Quads and Hamstrings
What is the name and location of the gym that you currently work out at?
Golds Gym-Slaughter/Congress location- Austin, TX
What supplement brands do you currently use?
Muscle Force // Steel Supplements // EHP Labs // GHOST // MuscleMeds
What are your Top 3 songs to work out to?
Britney Spears -Overprotected
Nicki Minaj- LLC
Alex Newell-Keep it Moving
Hobbies
What are your hobbies?
Listening to Music
Traveling
Bodybuilding
Shopping
Anime
Sports
What sports do you play?
Bodybuilding /weightlifting
Tell us about the sports you have played
Played baseball growing up, no sports in middle school and up through college
About MonEthos
Mon Ethos seeks to provide a customized level of service to its clients. By combining executive level talent management with the necessary business development tools Mon Ethos generates greater revenue and rewards to and interest in the athletes, artists and executives who take advantage of Mon Ethos wide range of services.
Through a hyper-intensive approach, we take talented individuals in their most raw form, fortify and develop their brand with a wide variety of resources and propel them into the next and highest level of their specific field. Whether it is the development of a website or a press release, Mon Ethos takes the utmost care in crafting a work product that is far superior than all others in our industry.
Our clients range from business executives reaching for the next level of management, or professional athletes looking to expand their revenue into areas other than their specific sport; all come to Mon Ethos for our professionalism and dedication to them and to our work.
Contact Mont Ethos: 800-689-1275
Athlete Application
The following questions are designed to give us a better understanding of who you are and what you are looking to get out of your relationship with Mon Ethos.