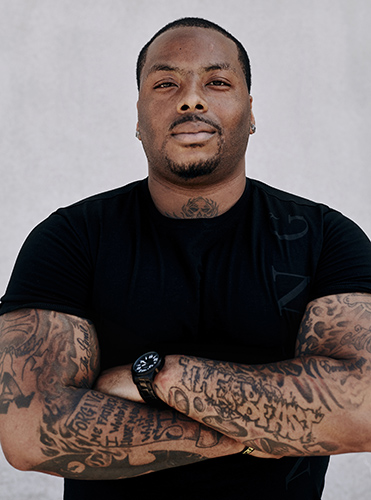 Age:

30

Height:

6'1

Weight:

245 lbs

Hair Color:

Black

Body Type:

Muscular

Piercing:

Yes

Tattoos:

Yes

Dress Shirt Size:

XL

Shoes Size:

13
Allen is 30 years old and used to have a life full of parties, drinking, junk food, and was overweight (310+ pounds). He started having severe back and knee pains. In 2015, started working at New York Sports Club on different roles, where according to him "it changed my life and gave me a goal in life, I've been working out since I was 15 years old, but it was in 2015 where this journey started". 
Allen is 245 pounds today, still some overweight, but since 2015 he lost over 65 pounds and put on some muscle. His passion for fitness has evolved. He put together a 5-year plan to start his career in the fitness industry. Studied to become a personal trainer/online coach (has been doing that for 2 years now). Started as a personal trainer at Crunch Gym and one year later went independent. He started training to hit the stage of bodybuilding planning to make his debut this year. He got into transformation challenges with supplement brands such as 1up Nutrition #RyseToGreatness, and 1st Phorm.
Allen is decided to make a career out of fitness, he wants to put his name up in the industry and coming across Mon Ethos made him feel like it was God telling him to take advantage of this opportunity, it's his time to rise. Allen has a different life now. Healthier habits and more disciplined. The best decision he has made says. He's currently an ambassador for 1st Phorm. Says the transformation challenges helped him to take his physique to another level and gain confidence. He recognizes that he knows had made major progress, but there's still a lot of work to do. Also, that he may still need some time to get himself into better shape. For him is a major start to even think about putting his name in any competitions. He's humbled and happy. A very positive person.
"I love the journey and I'm having fun doing what I love to do and making a career out of it" says @coolaj_stayfit
This is his journey to become a better version of himself.
Competitions
What was your last bodybuilding competition and what did you place?
WBFF entertainment.
What prior competitions have you been to and what did you place in those?
None
What competitions have you won?
None
When/where is your next competition?
Still to be determined
FITNESS REGIMEN
Briefly describe your current workout regimen
I work out 5 days a week. I do cardio 3 to 4 days out of the week. Im currently prepping for a transformation challenge and to compete this summer for my pro card
What is the name and location of the gym that you currently work out at?
Crunch gym. New york, NY west 54th st and 7th Avenue
What supplement brands do you currently use?
1stphrom
What are your Top 3 songs to work out to?
50 cent heat
Meek mill believe
Hobbies
What are your hobbies?
Basketball / Football
Computers / Digital Photography / Electronics / Games / Internet
Bodybuilding / Entertaining / Exercise (Aerobics, Weights)
Music / Reading / Movies / TV
Modeling / Self Defense
Sports
What sports do you play?
Bodybuilding / Weightlifting / Basketball / Football / Softball / Volleyball
Tell us about the sports you have played
I played highschool basketball for the team. I also played volleyball in highschool just for fun.
About MonEthos
Mon Ethos seeks to provide a customized level of service to its clients. By combining executive level talent management with the necessary business development tools Mon Ethos generates greater revenue and rewards to and interest in the athletes, artists and executives who take advantage of Mon Ethos wide range of services.
Through a hyper-intensive approach, we take talented individuals in their most raw form, fortify and develop their brand with a wide variety of resources and propel them into the next and highest level of their specific field. Whether it is the development of a website or a press release, Mon Ethos takes the utmost care in crafting a work product that is far superior than all others in our industry.
Our clients range from business executives reaching for the next level of management, or professional athletes looking to expand their revenue into areas other than their specific sport; all come to Mon Ethos for our professionalism and dedication to them and to our work.
Contact Mont Ethos: 800-689-1275
Athlete Application
The following questions are designed to give us a better understanding of who you are and what you are looking to get out of your relationship with Mon Ethos.