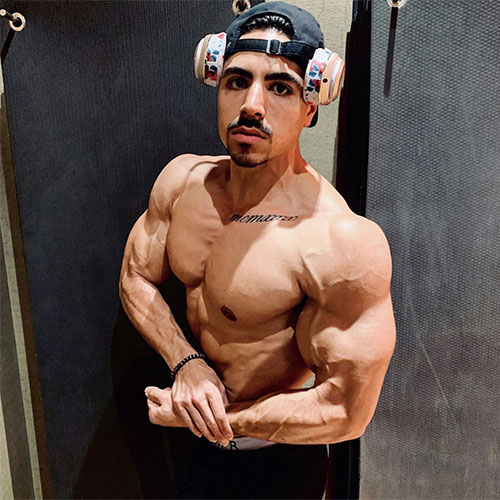 Age:

30

Height:

5'10"

Weight:

190 lbs

Hair Color:

Black

Body Type:

Athletic/Aesthetic

Pircing:

No

Tattoos:

Yes

Dress Shirt Size:

L

Shoes Size:

10
Alejandro is also known as Alex. He was born in Denver, Colorado and moved to the Greater Washington area at a young age. "Being kind, fair, & respectful was the foundation of my upbringing. I'm a product of the world's most wonderful parents who invested all of their time & energy in exposing me to a wide range of experiences from education, sports, hardships, music, travel, etc. Being physically active was a major part of my childhood, but I grew to become lazy, complacent, and careless throughout early high school. This resulted in me struggling with physical activity, food behaviors, and relationships. I didn't feel comfortable in my own skin" says @major_aesthetics
"On August 27, 2007 I made a bet with my parents that I'd go to the gym five times a week for three consecutive months in exchange for the payment of my gym membership. Little did they know, my parents commenced a lifelong journey of me as a competitive physique athlete, a health & fitness career, and a son whose passion has become contagious, relatable, & effective to those around him. My hobby is the sport of physique & bodybuilding, but my career is bridging the gap between results & sustainability".
According to Alejandro, his company, Major Aesthetics, grew before he knew what it was. "My personal health & fitness progression created a platform where I was helping friends & family for several years until my time became saturated. That is when I saw potential in creating my own health business. Four years later & my daily life is dedicated to the movement. I communicate with my clients first thing in the morning to the last moment of the day. It's important to understand the sets/reps and calories, however, my passion is identifying what's ideal for each client's physique & physical health, while balancing that with HAPPINESS & longevity in their program".
Competitions
What was your last bodybuilding competition and what did you place?
2017 Jr. USAs
Men's Physique 11th Classic Physique 16th
What prior competitions have you been to and what did you place in those?
2016 NPC Baltimore Classic – Classic Physique Class B (5th)
2016 NPC Baltimore Gladiator Championships – Classic Physique Class B (1st) / Men's Physique Class B (2nd)
2015 NPC Maryland State/ East Coast Classic – Men's Physique Class D (2nd) Maryland State Men's Physique Class D (2nd) East Coast Classic
2015 NPC Baltimore Gladiator Championships – Men's Physique Class C (8th) 2014 NPC Northern USAs / Men's Physique Class C (1st)
What competitions have you won?
Won my classes in the:
2016 NPC Baltimore Gladiator Championships (Classic Physique)
2014 NPC Northern USAs (Men's Physique)
When/where is your next competition?
Still to be determined
FITNESS REGIMEN
Briefly describe your current workout regimen
I train 6 days per week. I do cardio about 5-6x/wk. I am currently not on prep
What is the name and location of the gym that you currently work out at?
BenAfits Bodyshop, Rockville, MD | LifeTime Athletic, Gaithersburg, MD | OneLife Fitness, Rockvill, MD
What supplement brands do you currently use?
Evogen Nutrition
What are your Top 3 songs to work out to?
1) Tory Lanez "Real Addresses"
2) Travis Scott "Antidote"
3) Disturbed "Down With The Sickness"
Hobies
What are your hobbies?
Basketball
Movies
Music
Tennis
Traveling
Sports
What sports do you play?
Bodybuilding / Bowling / Golf / Tennis / Snowboarding / Table tennis / Baseball / Basketball / Swimming / Cycling
Tell us about the sports you have played
I played highschool baseball & tennis. Started bodybuilding late highschool through college. I didn't compete until after college.
About MonEthos
Mon Ethos seeks to provide a customized level of service to its clients. By combining executive level talent management with the necessary business development tools Mon Ethos generates greater revenue and rewards to and interest in the athletes, artists and executives who take advantage of Mon Ethos wide range of services.
Through a hyper-intensive approach, we take talented individuals in their most raw form, fortify and develop their brand with a wide variety of resources and propel them into the next and highest level of their specific field. Whether it is the development of a website or a press release, Mon Ethos takes the utmost care in crafting a work product that is far superior than all others in our industry.
Our clients range from business executives reaching for the next level of management, or professional athletes looking to expand their revenue into areas other than their specific sport; all come to Mon Ethos for our professionalism and dedication to them and to our work.
Contact Mont Ethos: 800-689-1275
Athlete Application
The following questions are designed to give us a better understanding of who you are and what you are looking to get out of your relationship with Mon Ethos.