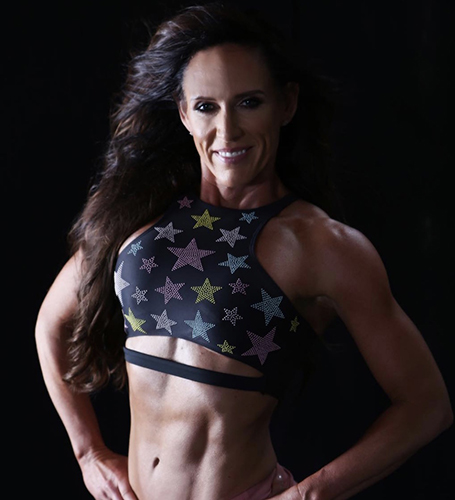 Age:

47

Height:

5'4

Weight:

145 lbs

Hair Color:

Dark brown

Body Type:

Fit

Pircing:

Yes

Tattoos:

No

Dress Shirt Size:

S

Shoes Size:

5.5
Aimee Pourroy, is an accountant, trainer, and ambitious athlete aiming for a pro card.
"Most of my life I've been in fitness from group sports to triathlons and marathons, until landing on the passion of bodybuilding and being memorized by the science of the body. After becoming a mom, I had the ability to take on the dream of obligating my personal goals to the world of fitness. After years of endurance sports and discovering a weight room I participated in my first show in 2013. Between 2014-2019 I've competed in 8 shows placing in either top 5 or top 3 and in 2019 2nd place, qualifying for nationals.
In between shows I have done multiple photoshoots, competed in Starks Stark-naked fitness contest and raised over 10K for California Highway Patrol Widows and Orphans Foundation. I document my journey of being a fit mom on my IG 'Two Girls and a Gym' with my best friend showing you can be a good example to your kids and other moms who think it's impossible.
This year I'm planning on a national show.  I've been preparing for this and more than ready to achieve the fitness goal I've been striving for. I hope to not only show my daughter it's possible to do anything you work hard for, but also moms everywhere that it is ok to act on your personal goals while being a parent." says Aimee.
Competitions
What was your last bodybuilding competition and what did you place?
Spectrum sports battle of the desert Las Vegas Nevada. Placed 2nd
What prior competitions have you been to and what did you place in those?
Spectrum sports San Jose California, muscle productions San Francisco championships, Spectrum sports governors cup, Placings range third through fifth
What competitions have you won?
None
When/where is your next competition?
July 11 2020 Nor-cal championships Sacramento California
FITNESS REGIMEN
Briefly describe your current workout regimen
6x week weights and cardio. In contest prep
What is the name and location of the gym that you currently work out at?
Cooper sports performance Dublin, California and full home garage gym
What supplement brands do you currently use?
Designs for health // Xymogen // Evogen
What are your Top 3 songs to work out to?
Boss Bitch
3 to Tango
Hobbies
What are your hobbies?
Entertaining
Reading
Bodybuilding
Traveling
Exercise (Aerobics, Weights)
Sports
What sports do you play?
Bodybuilding
Tell us about the sports you have played
Played 15 years of softball Volleyball through high school / Cheerleading junior high and high school
About MonEthos
Mon Ethos seeks to provide a customized level of service to its clients. By combining executive level talent management with the necessary business development tools Mon Ethos generates greater revenue and rewards to and interest in the athletes, artists and executives who take advantage of Mon Ethos wide range of services.
Through a hyper-intensive approach, we take talented individuals in their most raw form, fortify and develop their brand with a wide variety of resources and propel them into the next and highest level of their specific field. Whether it is the development of a website or a press release, Mon Ethos takes the utmost care in crafting a work product that is far superior than all others in our industry.
Our clients range from business executives reaching for the next level of management, or professional athletes looking to expand their revenue into areas other than their specific sport; all come to Mon Ethos for our professionalism and dedication to them and to our work.
Contact Mont Ethos: 800-689-1275
Athlete Application
The following questions are designed to give us a better understanding of who you are and what you are looking to get out of your relationship with Mon Ethos.