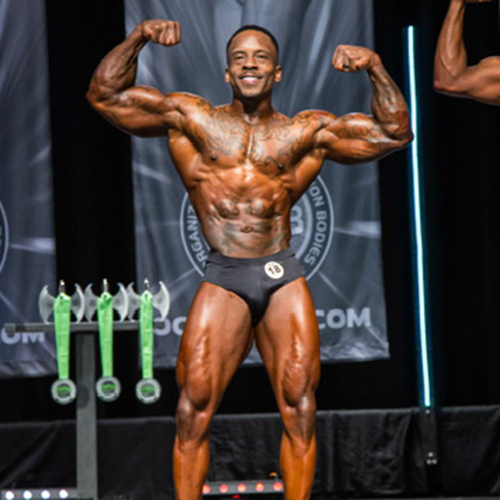 Age: 

33

Height: 

5'6

Weight: 

180 lbs

Hair Color: 

Black

Body Type: 

Athletic

Piercings: 

Yes

Tattoos: 

Yes

Dress shirt size: 

16.5

Shoes Size: 

10
Aaron D Harris was born in Little Rock, AR, and raised in Kansas City, MO. He started training as a teenager with the older guys at the Southeast community center. "My mother eventually got me a gym membership to keep me out of trouble and I instantly fell in love with fitness and the sport of bodybuilding. I've been consistently training since I was 16 years old. While in high school I played basketball, ran the track-long distance, played football, and played in the band" says @aaronthebodybuilder
When Aaron graduated from High School he joined the United States Navy where he has served 15 years on active duty, currently completing the remaining 5 years as a reservist.
"I took advantage of every deployment and underway to get as big as I possibly could. I ate as much as I could and lifted as heavy as I could every day for months at a time. I made sure I never missed a day, training myself to be consistent regardless of external distractions which is very hard to do while deployed on a ship. In 2017 I realized I didn't want to continue serving on active duty because of my passion for the sport of bodybuilding".
Aaron left active duty, found a coach, and started his first competition prep, going on to win overall at the OCB Capital City Classic. "This clarified that what I felt in my heart was real and I've been training and competing ever since. I'm an entrepreneur and a currently a senior at Old Dominion University studying for my BA in Exercise Science". Now I train 6 days a week, maintain my diet year-round, and stay at between 10-13% bf. I will be coming back to the NPC to compete and obtain my IFBB Pro Card at the 2020 North American Championships".
Competitions
What was your last bodybuilding competition and what did you place?
OCB Body Sculpying Open- Overall Classic Physique
What prior competitions have you been to and what did you place in those?
2017 OCB Captial City Classic- 1st Place Open Overall Classic Physique
2018 NPC Baltimore Gladiator- 2nd Place Open Classic Physique
2018 Jay Cutler Classic-1st Place Open
2018 North Americans- 16th Place Classic Physique
2019 Universe-2nd Place Welterweight Bodybuilding
2019 North Americans-8th PlaceWelterweight Bodybuilding (w/injury)
What competitions have you won?
OCB Capital City Classic
OCB Body Sculpting Open
When/where is your next competition?
North Americans 2020
FITNESS REGIMEN
Briefly describe your current workout regimen
I work out 6 days per week, Sunday rest day. No cardio. I maintain a baseline around 10% bf
What is the name and location of the gym that you currently work out at?
My garage (my house)
What supplement brands do you currently use?
Pharmafreak
What are your Top 3 songs to work out to?
Black — Buddy (feat. ASAP Ferg)
Throw it Up – Lil Jon and the Eastside Boys
Let it Fly – Lil Wayne (feat. Travis Scott)
Hobies
What are your hobbies?
Acting
Arts
Entertaining
Drawing
Exercise (Aerobics, Weights)
Sports
What sports do you play?
Bodybuilding
Tell us about the sports you have played
Track (long distance), football (rb), basketball (pg) all in high school.
About MonEthos
Mon Ethos seeks to provide a customized level of service to its clients. By combining executive level talent management with the necessary business development tools Mon Ethos generates greater revenue and rewards to and interest in the athletes, artists and executives who take advantage of Mon Ethos wide range of services.
Through a hyper-intensive approach, we take talented individuals in their most raw form, fortify and develop their brand with a wide variety of resources and propel them into the next and highest level of their specific field. Whether it is the development of a website or a press release, Mon Ethos takes the utmost care in crafting a work product that is far superior than all others in our industry.
Our clients range from business executives reaching for the next level of management, or professional athletes looking to expand their revenue into areas other than their specific sport; all come to Mon Ethos for our professionalism and dedication to them and to our work.
Contact Mont Ethos: 800-689-1275
Athlete Application
The following questions are designed to give us a better understanding of who you are and what you are looking to get out of your relationship with Mon Ethos.