Taylor Black, who served two deployments with the U.S. Marines, recently traveled to Miami to compete in the 2018 NPC National Bodybuilding Championships on Nov. 15 through Nov. 17. Black's previous competition was the 2017 NPC Night of Champions where he was the Overall Winner in the Men's Physique.
"We expect big things from Taylor. He has the talent and energy necessary to make it big in the professional bodybuilding world, and the excitement that he brings to the gym is felt by everyone who works around him." – David Whitaker, President of Mon Ethos Pro.
Location: Boston, MA
Age:            24
Gender:      Male
Hair Color:  Blonde
Body Type:  Men's Physique
Weight:         220lb
Height:         
Shirt Size:  XL
Neck Size:  17
Paint Size:  33×33
Shoe Size:  11.5
Tattoos: Yes
Piercings:  No
Sports, Hobbies, & Fitness
What was your last bodybuilding competition and what did you place?
Night of Champions, Wa, I won the Overall
What prior competitions have you been to and what did you place in those?
Miami Nationals
What competitions have you won?
Night of Champions
Briefly describe your current workout regimen
6 days, 35 mins a day, yes training for Miami Nationals
What is the name and location of the gym that you currently work out at?
Greater Boston fitness, Revere MA
What supplement brands do you currently use?
Evogen
What are your Top 3 songs to workout to?
Excision, Soja, and Travis Scott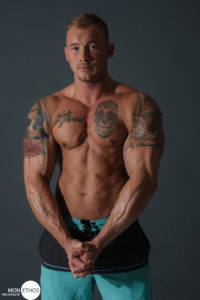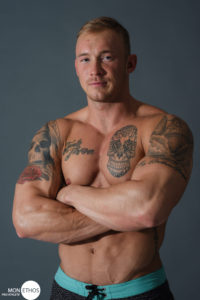 What are your hobbies?
Baseball
Beach/Sun tanning
Body Building
Eating out
Exercise (aerobics, weights)
Fast cars
Going to movies
Hunting
Weightlifting
What sports do you play?
What sports do you watch?
Bodybuilding
Weightlifting
Baseball
Basketball
Football
Tell us about the sports you have played.
Baseball, all 4 years varsity freshman of the year, all state all 4 years
Tell us about your favorite teams.
Boston Red Sox, Boston Celtics, Texas A&M