IFBB Pro athlete Raymont Edmonds is the Pittsburgh Pro Champion 2017 – 2018, New York Pro Champion 2018, and Charlotte Europa Champion 2017. He excelled at basketball throughout high school and university, and is now striving to become Mr. Olympia.
| | |
| --- | --- |
| Age | 33 |
| Height | 6'2 |
| Weight | 235-240 lbs |
| Hair Color | Brown |
| Body Type | Athletic |
| Location | Pittsburgh, PA |
| Piercings | Yes |
| Tattoos | Yes |
| Neck Size | 18 in |
| Dress Shirt Size | Large |
| Pant Size | 34W 32L |
| Shoe Size | 11.5 - 12 |
Sports, Hobbies, & Fitness
What was your last bodybuilding competition and what did you place?
2018 New York Pro Champion
What prior competitions have you been to and what did you place in those?
City Limits Pro 2017 – 2nd place
Charlotte Europa 2017 – 1st place
Pittsburgh Pro 2017-2018 – 1st place
New York Pro 2018 – 1st place
New York Pro 2017 – 2nd place
New York Pro 2016 – 8th place
Arnold Classic 2018 – 2nd place
Arnold Classic 2016-2017 – 6th place
Mr. Olympia 2017 – 4th place
What competitions have you won?
Pittsburgh Pro Champion 2017 – 2018
New York Pro Champion 2018
Charlotte Europa Champion 2017
When/where is your next competition?
Mr. Olympia 2018, September 15, 2018 hosted in Las Vegas, Nevada
Briefly describe your current workout regimen
I train 6-7 days a week, 30-45min of cardio 6-7 days, and yes I am currently prepping for 2018 Mr. Olympia
What is the name and location of the gym that you currently work out at?
Diamond Athletics ( Plum, Pa ), Amerifit Gym ( Greentree, Pa ), and LA Fitness and Planet Fitness at multiple locations in Pgh
What supplement brands do you currently use?
American Made Nutrition
What are your Top 3 songs to workout to?
I listen to anything and everything when I'm in the gym. Hip hop, pop, r&b, dance, rock, etc.,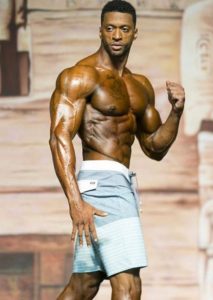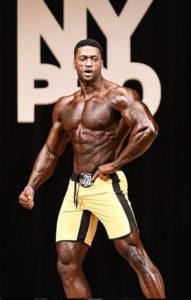 What are your hobbies?
Acting
Amateur Radio
Animals/pets/dogs
Baseball
Basketball
Beach/Sun tanning
Beatboxing
Bicycling
BMX
Blogging
BoardGames
Body Building
Bowling
Camping
Canoeing
Casino Gambling
Chess
Church/church activities
Collecting
Collecting Artwork
Collecting Hats
Collecting Music Albums
Collecting Sports Cards (Baseball, Football, Basketball, Hockey)
Collecting Shoes
Computer activities
Cooking
Crafts (unspecified)
Crossword Puzzles
Dancing
Darts
Digital Photography
Dodgeball
Dominoes
Eating out
Educational Courses
Electronics
Entertaining
Exercise (aerobics, weights)
Fishing
Football
Four Wheeling
Games
Going to movies
Golf
Go Kart Racing
Hiking
Horse riding
Iceskating
Internet
Jewelry Making
Jigsaw Puzzles
Learn to Play Poker
Learning A Foreign Language
Learning An Instrument
Legos
Listening to music
Magic
Meditation
Motorcycles
Mountain Biking
Mountain Climbing
Musical Instruments
Painting
Paintball
People Watching
Photography
Pinochle
Playing team sports
Reading
Relaxing
Renting movies
Skiing
Shopping
Soccer
Socializing with friends/neighbors
Spending time with family/kids
Storytelling
Swimming
Tetris
Texting
Traveling
TV watching
Volunteer
Walking
Watching sporting events
Weightlifting
Writing
What sports do you play?
Bodybuilding
Bowling
Darts
Golf
Handball
Weightlifting
Darts
Handball
What sports do you watch?
Bodybuilding
Bowling
Boxing
Cross-country
Golf
Gymnastics
Balance beam
Floor exercise
Horizontal bar
Parallel bars
Ice skating
Figure skating
Speed skating
Snowboarding
Swimming
Tennis
Track-and-field sports/athletics
High jump
Long jump
Weightlifting
Powerlifting
Wrestling
Baseball
Basketball
Bowling
Cross-country
Football
Football (soccer)
Rugby
Gymnastics
Handball
Ice hockey
Speed skating
Skiing
Swimming
Table tennis
Tennis
Drag racing
Grand Prix racing
Dog racing
Horse racing
Motorcycle racing
Motocross
Offroad racing
Speedway racing
Bull riding
Skateboarding
Tell us about the sports you have played.
I've always been an athlete and have played sports from the time I was youth. I've played basketball in highschool at Taylor Allderidce 2 year varsity starter and 2 years a  captain. I played basketball in college at the University of Penn State Beaver Campus, 4year varsity starter, 3 years as captain, and top 5 all time scoring list. Now I am amongst the elite level of bodybuilding in the Men's Physique division and my hopes are becoming Mr. Olympia!
Tell us about your favorite teams.
Football – Pittsburgh Steelers
Baseball – Pittsburgh Pirates
Hockey – Pittsburgh Penguins
It's a Burgh thing, Pittsburgh EVERYTHING!
However, bc we don't have a basketball team my favorite basketball team is the Los Angeles Lakers and Boston Celtics.