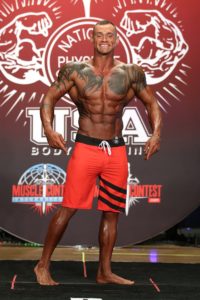 Ethan Coro is an aspiring bodybuilder and active military police officer. He joined the Marines 9 years ago, and has been bodybuilding competitively for the last two years. He has plans to train compete and model full time. His chief motivation is to show his three year old son Ryder that following your dreams will get you where you want to be. Ethan is highly enthusiastic about social media and working with Mon Ethos to increase his value as a social influencer.
| | |
| --- | --- |
| Age | 29 |
| Height | 5'9 |
| Weight | 187 lbs |
| Hair Color | Brown |
| Body Type | Athletic |
| Location | |
| Piercings | No |
| Tattoos | Yes |
| Neck Size | 16.25" |
| Dress Shirt Size | Large |
| Pant Size | 32 |
| Shoe Size | 10 |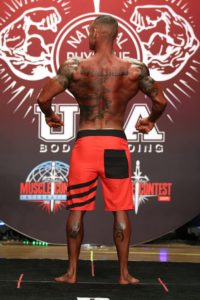 Discover What You're Made Of
Why settle for anything but the best when it comes to you body.
For more information call:  (855) 451-5855
Sports, Hobbies, & Fitness
What was your last bodybuilding competition and what did you place?
My last tournament was Muscle Contest LA grand prix. My first NPC show, I placed 2nd in Novice and 3rd in regular class. (Both mens physique).
What prior competitions have you been to and what did you place in those?
I competed in the World Fitness Federation, world champions and placed 6th place. I also competed at a qualifying competition 4 months prior with Lauren Powers for the WFF placing 2nd.
What competitions have you won?
I have not placed first in a competition yet.
When/where is your next competition?
Muscle contest: California state championships. Saturday May 25th in Culver city at the veterans memorial auditorium.
Briefly describe your current workout regimen
I am currently on prep 5 weeks out from the California state championship. I currently workout 7 days a week. One day being an active rest day where I work on weaker body parts. I currently do 9 hours and 30 mins of cardio a week.
My workouts consist of a range of heavy lifting with low sets to higher reps and anywhere from 4 to 12 sets.
What is the name and location of the gym that you currently work out at?
24 hour fitness Carlsbad CA
What supplement brands do you currently use?
Yamamoto nutrition is my new go to supplements.
I also use global formulas and axe and sledge. I tend to try to find the right supplements that work for my biology.
What are your Top 3 songs to workout to?
Beast by rob bailey.
Venom by Eminem.
Any song by bad wolves
What are your hobbies?
Beach/Sun tanning
Body Building
Camping
Exercise (aerobics, weights)
Fishing
Games
Hiking
Hunting
Martial Arts
Meditation
People Watching
Relaxing
Scuba Diving
Self Defense
Shark Fishing
Spending time with family/kids
Video Games
Weightlifting
What sports do you play?
Bodybuilding
Martial arts
Jujitsu
Kung fu
Tae kwon do
Shooting
Weightlifting