IFBB Pro Quincey Whittington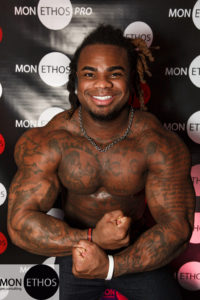 Quincey Whittington doesn't body build for looks.  He doesn't do it for muscle or mass or trophies. Of course he wants to win but for Quincey Whittington winning means something very different than it does for others in this sport.
Quincey spends most of his time not in the gym or beneath a bench press. Instead he chooses to devote his hours to children, youth, and also to pro athletes whom he mentors with a passion. His goal? To instill in those he mentors a sense of integrity and discipline, a desire to do good, a real reserve of compassion and a stick-to-it-ness that ensures success in  life. His clients are between the ages of  seven and thirty and they come to him with keen ambitions to improve their lives and to reach significant goals.
Quincy spends a lot  of time with adolescents. It can be hard to work with them, especially those who are very self possessed as are Quincey's kids. With younger clients  it can be hard to keep their attention. Quincey  succeeds at what he does because he knows how to set an example and how to enter the world of those he mentors with almost palpable compassion. He works by modeling for his athletes what it means to work hard. His clients, many of them kids, see him training for his upcoming shows. They see the sheen of sweat on his face as he hauls hundreds of pounds into the air. They see his squats and his aerobics and, most of all, they see his body change as a result of the effort he demonstrates for them. This is why Quincey body builds. He does it purely to set an example for his kids. "I asked my kids what they wanted to see me accomplish and they said body building. They said 'go to the highest level.' I promised the kids I mentor that I would do anything they picked to show them that if you put your heart into it, anything is possible."
In addition to setting an example, Quincey mentors by teaching his athletes a sport, any sport they choose. He teaches tennis, golf, baseball, football. "Sports are a metaphor for life. The skills you need to succeed at a sport are the exact same skills you need to succeed in life. So when I'm teaching a sport I'm really teaching how to live. I'm teaching discipline, consistency, patience and hard work."
Quincey came to body building through the back door, so to speak. He picked up weights not because he wanted to win but because the kids he mentored challenged him to do so. He has kept at it for the exact same reason.  He turned pro in just  three months. This year he is aiming for the Olympia, which is the superbowl of body building. "The sport is my taxi to life . In every sport you won't win but you can't give up, just like in life. So many people preach sport sport sport but they don't get kids prepared for life. Preparation for life is the key to success and the sport teaches you that."
Quincey has been involved in sports ever since he was a young boy. He went to college on a four hundred thousand dollar football scholarship and at that time his goal was the NFL. However,  he always felt conflicted about football. His family expected him to do it. "Ever since I was in my mama's stomach and they found out I was a boy they expected me to play football. Growing up it was football football football." He was good, maybe even great, but Quincey didn't make the NFL because he could not pass his college courses. These were his darkest days. He got a gun and thought about turning it on himself. He wept into his hands. Without football, who was he? He felt he had failed the Whittington dream.
Just as night turns to day as the minutes tick by, so too did Quincey's depression resolve. He came to realize that just because football was not in his future something else was. He realized he wanted to mentor kids and he wanted them, amongst other things, to avoid the mistakes he had made. He emphasizes to those he coaches that they have a brain and they should use it. Quincey dropped out of college because he was utterly unprepared for the rigors of academic work, and his lack of preparation stemmed from high school where he failed to pay attention and to therefore develop the literacy skills colleges would demand. He makes sure his kids know he expects them to listen up in their classes. His dream is to win at the highest level of body building and to then create a Quincey Whittington Scholarship Fund. His dream is to sculpt his body and his psyche into something of beauty and worth and, in doing so, to show those he mentors that hard work pays off. Every day is a struggle right now but Quincey sees a star in his future, a bright beacon of light he is inexorably drawn towards. That light is not the flash of a golden trophy but of dozens of golden trophies held in the hands of those he has taken and taught.  He has put down his gun. He no longer weeps into his hands. He is up at dawn, just as the first ray of sun sizzles into the sky. Practice practice practice. Prep prep prep. His athletes watch. He watches his athletes. Life unfolds in the tiny town in Texas, where he lives and works, where he takes  young lives and propels them forward , where he pumps and preens his body, every abdominal muscle sculpted and visible, his skin decorated with dozens of dark tattoos. His smile is captivating, his teeth a solid and shining white. He has a winning smile. He has winning ways. When he makes it to the top he will have his kids by his side. His wins are their wins and in this way he injects deep generosity into the sport. He knows how to pay it forward, how to double down on good. The sport is a spiritual quest and, because of this, he cannot lose. Because of this, he has already won, enriched and enriching, surrounded by sweet success.
| | |
| --- | --- |
| Age | 28 |
| Height | 5'8 |
| Weight | 210 lbs |
| Hair Color | Black |
| Body Type | Athletic |
| Location | San Antonio, TX |
| Piercings | Yes (ears) |
| Tattoos | Yes |
| Neck Size | |
| Dress Shirt Size | Large |
| Pant Size | 34 |
| Shoe Size | 10.5 |
Sports, Hobbies, & Fitness
What was your last bodybuilding competition and what did you place?
City Limits my Pro Debut Gorilla 19 I got 5th out of 25
What prior competitions have you been to and what did you place in those?
Phil Heath 3rd
Chicago Nationals 4th
Team U 2nd
What competitions have you won?
None but turned Pro my 3rd show ever, Top 2 received
When/where is your next competition?
Not sure
Briefly describe your current workout regimen
Train every day once a week
What is the name and location of the gym that you currently work out at?
All over
What supplement brands do you currently use?
Surge supplements
What are your Top 3 songs to workout to?
Songs don't know, but artists; meek mill, lil hoodie, z-ro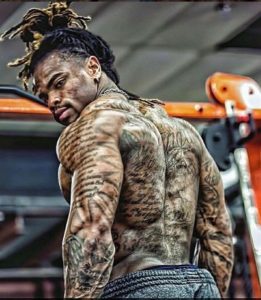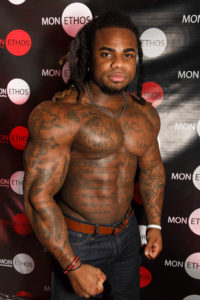 What sports do you watch?
Bodybuilding
Running
Sprint