Connor Kovacs won the 2018 NPC New York State Grand Prix Men's Physique and Classic Physique Overall titles and the 2017 NPC East Coast Cup Men's Physique Overall Title. Overall, he as competed in ten competitions since Spring 2016 and we expect much more of Connor in the years to come.
Location: Santa Ana, California
Age:            23
Gender:      Male
Hair Color:  Brown
Body Type:  Classic Physique Athlete
Weight:        210lbs
Height:         6'1
Shirt Size:  XL
Neck Size: 17
Paint Size:  34/32
Shoe Size:  11.5
Tattoos: Yes
Piercings:  No
Sports, Hobbies, & Fitness
What was your last bodybuilding competition and what did you place?
I competed at the NPC Rocky Mountain Championships in Denver, Colorado. I placed second in my class for Classic Physique. The week prior I competed at the NPC NY Grand Prix and took the Overall title for both Men's Physique and Classic Physique
What prior competitions have you been to and what did you place in those?
I have competed in ten competitions total since spring 2016 and have placed widely across the board. Most notably I have taken 4 Overall Titles and several first place titles for my class.
What competitions have you won?
I have won the NPC NY State Grand Prix Men's Physique and Classic Physique Overall titles and the NPC East Coast Cup Men's Physique Overall Title.
When/where is your next competition?
I plan to compete in late 2019 or early 2020 at my first pro qualifying show. I have yet to pick a show date specifically, as this will be based on my offseason progress.
Briefly describe your current workout regimen
Currently, I train instinctively based on what body parts I have trained already throughout the week when I have had enough rest days, or not enough, and also based on what I feel are weak points. Aside from this method of training I typically follow a five day training split hitting each body part once a week.
I will be going into a full off season within the next 8 weeks as I am currently post contest and I plan to utilize a push/pull/leg high intensity training regimen to get the results I am looking for for my physique.
What is the name and location of the gym that you currently work out at?
TruFit Athletics, Fort Collins CO
What supplement brands do you currently use?
I currently use Kaged Muscle Supplements and Like A Pro Supplements.
What are your Top 3 songs to workout to?
Becoming the Bull, Atreyu
Second and Sebring, Of Mice and Men
The Downfall of Us All, A Day to Remember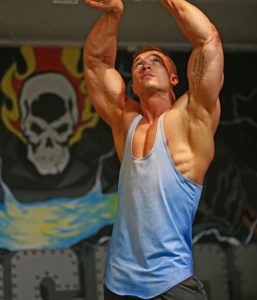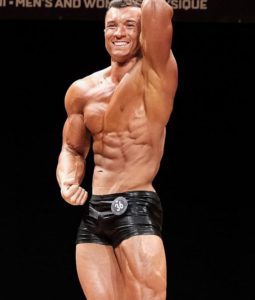 What are your hobbies?
Basketball
Body Building
Cooking
Eating out
Exercise (aerobics, weights)
Games
Going to movies
Keep A Journal
Listening to music
Lacrosse
Musical Instruments
Playing team sports
Relaxing
Renting movies
Snowboarding
Socializing with friends/neighbors
Spending time with family/kids
Traveling
What sports do you play?
Bodybuilding
Snowboarding
Weightlifting
Basketball
What sports do you watch?
Snowboarding
Basketball
Football
Tell us about the spots you have played.
In highschool I played lacrosse for all four years and started on the Varsity Lacrosse midfield/attack lines for three years. I played football my junior year of high school. Through college, I played for Merrimack College's club lacrosse team and avidly played basketball with my friends.
Tell us about your favorite teams.
Being from New York I have been a fan of the NY Giants since I was very little.